Yala Peak Climbing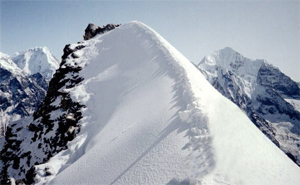 Yala Peak is one of Nepal's easier trekking peak in Langtang Himalayan Range. Yala Peak is the only Climbing Peak which is Close Tibetan Border, just to the north of Kathmandu Trek Via Syabrubashi beautiful Langtang valley and Villages , this 5500 meters peak does not require mountaineering experience. From Katmandu we drive to Dhunche or Syabru Bensi, and then trek up the valley Langtang to Kyangin Gompa. We explore the Langshisa glacier to help us acclimatize, establishing a high camp at 4800 meters from where we make our summit. After an alpine start under stars we are on the summit by late morning, with some amazing views into Tibet and across to Shisapangma (the only 8000 meters peak situated wholly in Tibet).This trek enables you to explore through the Langtang National Park home of the Tibetan looking people the Tamangs. We begin our journey by drive towards the North West of Kathmandu to a mountain village of Dhunche a major village of Langtang area.
Trip Itinerary
Day 01: Arrival to Kathmandu airport and transfer to hotel

Day 02: Full day valley sightseeing tour and necessary preparation for the trek

Day 03: Drive to Syabru Beshi (1462m) and overnight at hotel

Day 04: Trek to Lama Hotel (2500m)

Day 05: Trek to Langtang (3100m)

Day 06: Trek to Kyanging Gompa (3750m)

Day 07: Excursion Around Kyanging Gompa and Climbing Perpration night at Kyangching Gompa

Day 08: Kyanjin gomba to Yala peak base camp

Day 09: Yala peak B.C. rest and prepare for climbing.

Day 10: Base camp to summit and back to base camp.

Day 11: Base.Camp to Ghoda Tabala

Day 12: Ghoda Tabala to Tholo syabru

Day 13: Thulo Syabru to Dhunche

Day 14: Dhunche to Kathmandu by private vehicles or bus.

Day 15: Shopping and sightseeing in Kathmandu

Day 16: Transfer to airport for your departure flight

Note: Itinerary Can be Customize as your Requirement. If this above itinerary is not suffice or have any questions, you can ask one of our expert team member for help.