Mardi Himal Peak Climbing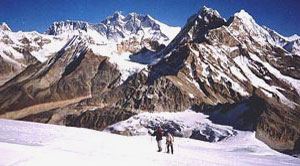 Mardi Himal is the shortest and probably the easiest of our expeditions in Nepal, to maximize both your enjoyment and your chances of success, you need. A major benefit of Mardi Himal is the ability to climb it in a round trip of a little over 2 weeks. It therefore makes a visit to the Himalaya a real possibility for those who hitherto have not been able to find the time to join a longer expedition.This peak is located in the east of the Modi Khola, across the valley from Hiunchuli. It is separated from Machhapuchhre ridge by a col. and usual route of ascent reaches this col (about 5,200m. /17,060 ft.) and reaches the summit via a route on its east flank. Although the mountain rises above the entrance to the Annapurna sanctuary it is not often visited.

The trek reaches and then follows the Mardi Khola for 2 days before turning and climbing the ridge line for 3 more days before reaching base camp around 4,100 m. /13,451 ft. The climb has problems with route finding and effort but little technical difficulty: the couloirs leading to the col on the East Face can present an avalanche danger with fresh snow. The climb begins by heading steeply towards the col on the connecting ridge between Mardi Himal and Machhapuchhre. High camp is usually placed just below the final steep (45 degrees) couloirs leading to the col (about 4,650 m. /15,256 ft.) From high camp, climb to the col and turn west, ascending steep snow slopes to the summit. Descend the same route.
Trip Itinerary
Day 01: Arrival to Kathmandu airport and transfer to hotel

Day 02: Half-day sightseeing tour and necessary preparation for the trek

Day 03 : Drive to Phedi and then start trek to Pothana

Day 04 :Trek to Forest camp

Day 05 : Trek to Bhaisi Kharka

Day 06 : Trek to Mardi Base camp

Day 07 : Climb to high camp

Day 08 : Summit Mardi Himal and back to base camp

Day 09 : Trek back to Forest camp

Day 10 : Trek to Siding village

Day 11 : Trek to Mardi Pul

Day 12 : Trek to Hyanja and drive out to Pokhara

Day 13 : Drive to Kathmandu (1350m)/Hotel

Day 14 : Free day in Kathmandu

Day 15 : Depart. From hotel and transfer to Airport.

Note: Itinerary Can be Customize as your Requirement. If this above itinerary is not suffice or have any questions, you can ask one of our expert team member for help.