Lobuche Peak Climbing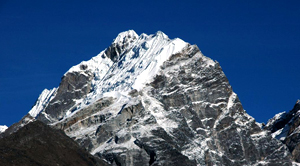 Lobuche Peak (6119m) is one of the most popular trekking climbing which lies close to the Khumbu Glacier. The peak is a sought after summit and has various routes for climbing as well. The normal route for climbing Lobuche is through South ride.

Climbing Lobuche Peak
As mentioned above, Lobuche peak has various routes; but we follow the Everest base camp trek route up to Pheriche and then trek to Dugha. The base camp will be set up at 4,950m, near a lake in a rocky hollow at the base of the glaciated South-West face. The view of Amadablam and Tawache are superbly rewarding from Lobuche Peak.

Lobuche Peak Trip Itinerary
Day 01: Arrival to Kathmandu airport and transfer to hotel

Day 02: Half-day sightseeing tour and necessary preparation for the trek

Day 03 : Flight to Lukla & trek to Phakding

Day 04 : Phakding to Namche

Day 05 : Namche rest for acclimatization

Day 06 : Namche – Thyanboche

Day 07 : Thyangboche – Pheriche

Day 08 : Pheriche – Lobuche

Day 09 : Lobuche – Kalapathar back to Gorekshep

Day 10 : Gorekshep to Everest base camp back to Lobuche

Day 11 : Lobuche Base camp

Day 12-13 : Acclimatization at BC

Day 14 : Make a High Camp

Day 15 : Acclimatization

Day 16 : Summit & Back to Base camp

Day 17 : Lobuche Base camp - Pangboche

Day 18 : Pangboche - Namche

Day 19 : Namche - Phakding

Day 20 : Phakding – Lukla

Day 21 : Fly back to Kathmandu

Day 22 : Free day yourself Explore around Kathmandu valley.

Day 23: Depart. From hotel and transfer to Airport.

Note: Itinerary Can be Customize as your Requirement. If this above itinerary is not suffice or have any questions, you can ask one of our expert team member for help.