Jomla Dolpo Mustang Trekking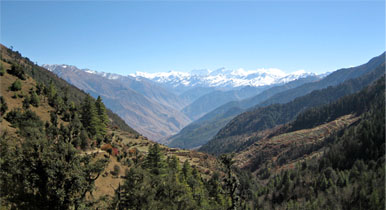 This trek takes place in the north- west region of Nepal , Being one of the remotest and least exposed areas of Nepal, and also naturally isolated by the difficult topography, it still offers opportunity to met the people and their lifestyle in a very authentic form, almost untouched and unexplored. As Dolpo is linked so closely with the frontier of Tibet ,it is inhabited by the people of Tibetan origin with he Tibetan culture where you will still come across the people and some monasteries adopting original Tibetan religion: Bon much older then the Buddhism. The trek also gives chances to visit several unique monasteries (gompas) including Shey Gompa (the crystal monastery) which still offers as an important pilgrimage for the many Tibetans.

Jumla-Dolpo Mustang is a long and strenuous trek which should be undertaken by those who are physically fit backed by previous trekking experiences. This area is one of the restricted areas of Nepal for foreign tourists, A special permit is required by paying US$ 500 per person for first 10 days and US$ 50 per person per day after 10 days as royalty particularly for the days spent in the area North of the PHOKSUNDO LAKE to Kagbeni Mustang..
Trip Itinerary
Day 01: Arrival in Kathmandu airport and transfer to hotel
Day 02: Kathmandu/Necessery preparation for trekking
Day 03: From Kathmandu fly to Nepalgunj (260m)
Day 04: From Nepalgunj fly to Jumla (2400m)
Day 05: Trek Jumla – Guthichaur (2,960m)
Day 06: Guthichaur – Naphukanda (3,109m)
Day 07: Naphukanda – Mauria pass (4,250)- Chaurikot (3,700m)
Day 08: Chaurikot –Taijam(2,920)
Day 09: Taijam – Kagmara (4,006m)
Day 10: Kagmara – Kagmara pass (5,115m) –Daju (3,500m)
Day 11: Daju – Phosksundo lake (3,600m)
Day 12: Phoskundo Lake – Phoskundo Beach (3,600m)
Day 13: Phoskundo Beach –Rest/Explore
Day 14: Phoskundo Beach – Mandala Camp (4,570m)
Day 15: Mandala Camp – Kang la (5,240m)- Shey Gompa (4,280m)
Day 16: Shey Gompa _ Saldang Pass (5,010m)-Namgung (4,380m)
Day 17: Namjung –Yangar Gompa (3,890m)
Day 18: Yangar Gompa – Musigaun (4270m)
Day 19: Musigun –Rest / Explore
Day 20: Musigaun – Lang La (5,002m)-Simegaun (3,950m)
Day 21: Simegaun – Tin Ja (4,150m)
Day 22: Tinja – Kaheng (4,550m)
Day 23: Kaheng – Chark Pass (5036m) –Chark (4365m)
Day 24: Chark – Yak Kharka (4,780m)
Day 25: Yak Kharka – Sangda Pass (5490m) –Sangada Phedi (5,110m)
Day 26: Singda Phedi – Singda (3,909m)
Day 27: Sangada – Dangar Dzong (2,900m)
Day 28: Dangar Dzong – Jomsom (2,710m)
Day 29: Fly Jomsom – Kathmandu
Day 30: Kathmandu – Rest /Sightseeing
Day 31: Kathmandu – Depart to your destination