Nepal Rafting Information
Rafting in Nepal is usually a wilderness experience. Running through the terrain, North to south, are the countries' major river Trasuli, Sunkoshi, Seti, Beri, Karnali, Bhotekoshi, & Kaligandaki, many of which rise from the glacier of the highest mountain in the world and the mysterious plateau of Tibet.
Nepal is a river runner's paradise. A country with a variety of scenic beauty possibly not surpassed in any other part of the world. With warm rivers a semitropical climate, impressive geography, exotic cultures, wildlife and friendly, welcoming people all in magnificent mountain surroundings.

WHITE WATER RAFTING IN NEPAL
There are 14 peaks above 8000 m. in the world among which eight are located in Nepal. It is situated in the lap of Mt. Everest, 8848 and is the motherland of Lord Buddha. There are plenty of rivers to complete your imagination; some of them are just for advance kayaker, many of them for intermediate kayaker/rafter, some for filming group and beginners. You are kindly requested to inform us if you want to paddle in kayak or raft, Nepal Mountain Lovers has long experience on Himalayan Rivers of Nepal, some rivers are in the remote areas of Nepal where you are to have a few days trek. The Rainbow Adventure loves to fulfill your dream in the Nepal as for your selection.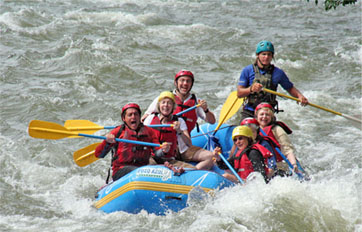 River Grades

Grade I Float-water, (little current)
Grade II Bubbling current (small rapid)
Grade III Teaching & Exciting (needs trained guide)
Grade IV Seriously big rapids
Grade V The hair-raising limit!
Grade VI Not able to run

What to Bring?
A few T-shirts, a pair of shorts, a towel, a pair of sandals or strong laced up shoes, water bottle, torch light, sunglasses, personal toiletries and sun cream.

What is Included?
All Rafting equipment with guide, meals while you are on the river, accommodation in a two person tent, all necessary fees, round trip transportation by bus and river permit.

Equipments:
Basically follow the suggestions allocated to the lonely planet guide book providing you with high quality equipment such as a self bailing raft, American Cup life jackets, white water helmets, Carlisle paddles, rescue kayaks, 100 percent water proof barrels, dry bags, two person tents, sleeping bags & mattress etc.

Food:
we are always conscious of serving hygienic food on the trips. Our chefs are knowledgeable in Nepalese and international cuisines. The vegetables are iodine treated. We provide tin packed and fresh food.

The Guide:
All our guides are skilled outdoors men, superb chefs and great companions. Our guides are trained at international standards and have spent several years rowing for leading raft companies.