Makalu Base Camp Trekking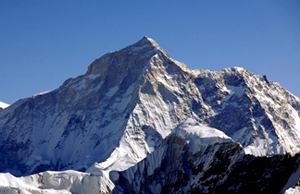 High in the heart of the eastern Himalaya, seven valleys radiate from mount. Makalu, the world's thirth highest peak. These valleys, particularly the Barun valley, treasure some of the last remaining pristine forests and alpine meadows of Nepal. From the bottom of the Arun valley, at just 435 m above sea level, the Himalaya rise to the snow-capped tip of Makalu- 8.463 m--within a 40 km distance.Within this wide range of altitudes and climates, the Makalu-Barun area contains some of the richest and most diverse pockets of plants and animals in Nepal, elsewhere lost to spreading human habitation.Nestled in the lower reaches of these valleys are communities of Rai, Sherpa, and Shingsawa (Bhotia) farmers.

Though economically poor and isolated, they retain a rich cultural heritage. They hold the key to the preservation of the unique biological and cultural treasures of the Makalu Barun area. The Makalu-Barun National Park and Conservation Area was established in 1992 as Nepal's eighth national park and the first to include an adjacent inhabited conservation area as a buffer. A new park management approach encourages local people to become actively involved in protecting the forests and natural resources upon which their lives depend, and in conserving their own rich cultural heritage. Traditional resource management systems, such as community controlled grazing and forest guardianship, are being strengthened and low level technologies introduced where appropriate. Working in collaboration with an American NGO, Woodlands Mountain Institute, Nepal is striving to improve local living standards through infrastructural, educational and income-generating activities.

Covering 2.330 sq km, Makalu-Barun is a vital component of the greater Mount Everest ecosystem which includes Nepal's 1.148 sq km Sagarmatha (Mount Everest) National Park to the west and the 35.000 sq km Qomolungma Nature Preserve in the Tibet Autonomous Region of China to the north.

The Makalu-Barun area is little known to most tourists due to its relative inaccessibility. But those few hundred trekkers and mountaineers who visit each year come away with an unforgettable experience.

For the naturalist, there are spectacular displays of wildflowers and exotic plants. More than 3.000 species of flowering plants, with hundreds of orchid varieties, 48. primroses, and 25 of Nepal's 30 rhododendrons splash the hillsides with color. The forests shelter abundant wildlife, including the endangered red panda and musk deer as well as the ghoral, Himalayan tahr and leopard. Ornithologists have identified 400 bird species, at least 16 of which are extremely rare. 
Trip Itinerary
Day 01: Arrival to Kathmandu airport and transfer to hotel
Day 02: Necessery preparation for trek
Day 03: Kathmandu - Tumlingtar (860 m). Trek to Khadbari (1,040m) Camp
Day 04: Trek Khadbari to Chichila (1,830 m) (5/6 hrs). Camp
Day 05: Trek Chichila to Num (1,490 m) (5 hrs). Camp 
Day 06: Trek Num to Sedua (1,460 m) (5/6 hrs). Camp
Day 07: Trek Sedua to Tashi Gaon (2,070 m) (5 hrs). Camp
Day 08: Trek Tashi Gaon to Kauma (3,470 m) (6 hrs). Camp
Day 09: Rest / Exploration day at Kauma. Camp
Day 10: Trek Kauma to Mumbuk  (3,570 m) (5 hrs). Camp
Day 11: Trek Nhe Kharka to Sherson (4,615 m) (7 hrs). Camp
Day 12: Trek Sherson to Makalu Base Camp (5,000 m) (4/5 hrs). Camp
Day 13: Explore Makalu Base Camp.
Day 14: Trek Makalu Base Camp to Nhe Kharka (3,000 m) (7 hrs). Camp
Day 15: Trek Nhe kharka to Mumbuk (3,570 m) (6 hrs). Camp
Day 16: Trek Mumbuk to Kauma (3,470m) (5 hrs). Camp
Day 17: Trek Kauma to Tashi Gaon (2,070 m) (5 hrs). Camp
Day 18: Trek Pukuwa to Bumling (1,160 m) (5 hrs). Camp
Day 19: Trek Bumling to Tumlingtar (860 m) (4 hrs). Camp.
Day 20: Flight: Tumlingtar - Kathmandu. Hotel Overnight.
Day 21: Free day to explore, and enjoy Kathmandu. Hotel Overnight
Day 22: Final Departure to your onwards destination.