Arun Valley Trekking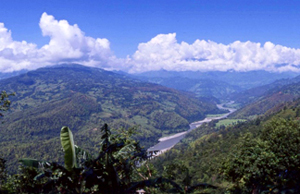 Trekking the Arun Valley Trail to Everest Base Camp Gateway Lukla is one of the best hikes that exist in the world for its exquisite natural beauty and different ecological footprint walks in Nepal. Arun Valley located between the Sagarmatha and Makal-Barun National Parks. A non touristic area but we can see significant views of Mt. Everest, Makalu, and enumerable mountains just on your eye. The trekking is unbelievable diversity of natural beauty and culture, Sherpa, Rai and Limbu are the main inhabitants of this region. It is the lowest valley of the world.The Arun Valley is a marvelous and easy trek for trekkers who do not want to encounter a mass influx of tourists on the trail but equally enjoy beautiful scenarios of valleys, splendid views of silvery mountains. The tempting views of Arun river and valleys can be seen on the way of trekking terrain. Arun Valley region is blessed with an incredible diversity of natural beauty and culture. Due to its isolation and lack of tea houses this area still receives few trekkers.
Trip Itinerary
Day 01: Arrival to Kathmandu airport and transfer to hotel
Day 02: Full day valley sightseeing tour and necessary preparation for the trek
Day 03: Kathmandu by flight to Tumlingtar. Overnight at Tumlingtar.
Day 04: Tumlingtar trek to Chyawabesi. Overnight at Chyawabesi (280m).
Day 05: Chyawabesi trek to Kothe. Overnight at Kothe.
Day 06: Kothe trek to Salpa phedi. Overnight at Salpa phedi (1680m).
Day 07: Salpa phedi trke to Sanam (2850m) via Guranse.
Day 08: Sanam trke to Bung. Overnight at Bung (1900m).
Day 09: Bung trek to Gai kharka. Overnight at Gai kharka (2300m).
Day 10: Gai kharka trke to Puiyan. Overnight at Puiyan (2230m).
Day 11: Puiyan trek to Lukla.
Day 12: Flight: Lukla - Kathmandu.
Day 13: Free day to explore, and enjoy Kathmandu.
Day 14: Final Departure to your onwards destination.