Rolwaling Valley Trekking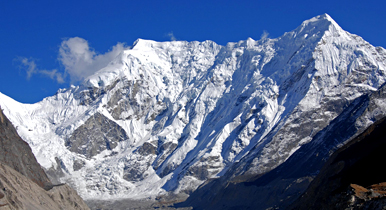 Rolwalling trek lies in the eastern part of Nepal . This is a moderate type of trek with glorious view over mountain.Rolwaling valley trek provides an experience the remoteness of this region, romantic mountain views, diverse flora and fauna and rich local buddhist cultures. Rolwaling valley trek requires a good walking experience and a good physical form. There is a Great nunnery Gompa called Bigu Gompa. In Sherpa Language Biku means "Seed". There is Sherpa village. View of Gaurishankar (7,145m), Melungtse (7,181m) and other mountains, a good landscapes; the village of Beding (3,690m) and monastery, the village of Na (4,183m), Tso Rolpa lake are the main attractions. Trekking to Rollwaling Himal, west of Everest and near the Tibtian border, offers fascinating experience. starts in Barabise, passes Tinsang la pass and descends Bigu Gomba which houses Buddhist nuns. The trail descends Bhotekosi River and turns into the Rollwaling valley, one of the most remote, mysterious, and fascinating places in the trek. Rolwaling valley is the place where some mountaineers arranged expedition to hunt yetis in the past. Beding is the last permanent settlement & Na Gaun which is only the summer settlement, is the highest altitude reached in the trek.
Trip Itinerary
Day 1 Arrival to Kathmandu airport and transfer to hotel
Day 2 Half-day sightseeing tour and necessary preparation for the trek
Day 3 Drive from Kathmandu – Barabise (819m)
Day 4 Barabise to Kabre (1605m)
Day 5 Kabre to Dolongsa
Day 6 Dolongsa to Bigu Gompa (2310m)
Day 7 Bigu Gompa to Chilangka (1923m)
Day 8 Chailangka to Kulong (1890m)
Day 9 Kulong to Shalu (1500m)
Day 10 Shalu to Simigaon (200m)
Day 11 Simigaon to Forest Camp (2800m)
Day 12 Forest Camp to Beding (3694m)
Day 13 Beding to Na (4100m)
Day 14 Na to Forest Camp (2800m)
Day 15 Forest Camp to Chetchet (1500m)
Day 16 Chetchet to Chetre (1000m)
Day 17 Chetre to Dolakha (950m)
Day 18 Dolakha to Charikot (200m)
Day 19 Charikot to Kathmandu
Day 20 Free day in Kathmandu
Day 21 Transfer to international airport.