Jomsom Muktinath Trekking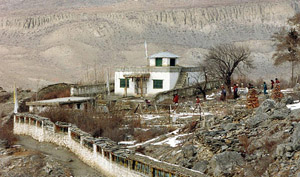 About Trekking in the Jomsom Muktinath/Kaligandaki area
The Jomsom Muktinath trek is a part of Annapurna circuit trekking that offers Nepal's magnificent diversity at its best. The trek is the final third of the Annapurna circuit following through the Kali Gandaki Valley between the lofty peaks of Annapurna and Dhaulagiri.

This 16 day trek kick starts from Kathmandu from where we move ahead to Pokhara followed up with a plane ride to Jomsom. Right after you land at Jomsom, you can see Mt. Nilgiri standing tall overlooking the airport. The trail ahead leads to Eklaibatti, Kagbeni and all the way to Mustang. The main highlight of the trek is the temple of Muktinath at an elevation of 3800 meters. The temple is built in the pagoda style dedicated to Lord Vishnu or Avalokiteshara as the Buddhists call him. For Hindus, Muktinath is one of the most important places of pilgrimage. There are several monasteries in the area with unbelievably great artworks on the wall.

From Muktinath we go downhill to Jomsom village on the Tibetan Plateau where we get a glimpse on the ancient traditions still in practice. This trek to Jomsom Muktinath is a great access to the high mountains of the Himalayas within a reasonable timeframe; most importantly without ascending to extreme altitude.
Trip Itinerary
Day 01: Arrival to Kathmandu airport and transfer to hotel
Day 02: Kathmandu half day sightseeing and necessary preparation for the trek
Day 03: Kathamndu drive/fly to Pokhara(850m) by tourist bus/Plane overnight at hotel
Day 04: Pokhara fly to Jomsom (2750m) and trek to Kagbeni (2850m)
Day 05: Trek to Muktinath (3800m)
Day 06: Trek to Marpha (2600m)
Day 07: Trek to Kalopani/Late (2500m)
Day 08: Trek to Tatopani (1100m)
Day 09: Trek to Shikha (2000m)
Day 10: Trek to Ghorepani (2850m) Poon Hill (3200m)
Day 11: Climb to Punhill for Sunrise, Trek back to Hile (1470m) via Urlleri Village
Day 12: Trek back to Pokhara via Birethanti and over at hotel
Day 13: Pokhara rest and Explore around
Day 14: Pokhara drive/fly back to Kathmandu
Day 15: Full day Kathmandu valley sightseeing evening free
Day 16: Transfer to international airport