Manaslu Rupina La Pass Trekking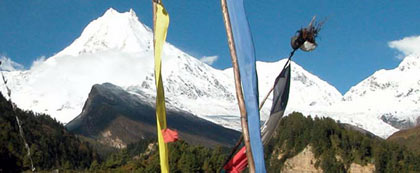 Rupina La Pass trek in the Manaslu region, less touristy than other trekking areas of Nepal. It was only officially opened to trekking in 1991.  It is one of the challenge walking holidays with high altitude hiking over Rupi Na La pass. The entire Manaslu region is geographically spectacular and culturally fascinating due to superb Himalaya scenery, lush valleys, beautiful landscapes, very few human settlements and diverse flora and fauna. We trek to high altitudes avoiding the humid temperature of the lowlands. Less Chance to see/cross other trekkers the first ten days of the trek while making the circuit via Rupina La. This is a wild place, but our staff of expert Sherpa guides ensures that our team is safe and cared for.
Trip Itinerary
Day 1 Arrival to Kathmandu
Day 2 Sight seeing in Kathmandu Make permit for Rupi-na-La Trek
Day 3  Early Morning drive to Barpak (1900m) Camp/Lodge
Day 4  Trek to Panga Chhahara (2110m)
Day 5  Trek to Bhendi Goth (2600m)
Day 6  Trek to Rusi Camp (3100m)
Day 7  Trek to Rupina La Phedi (base camp-4200m)
Day 8  Trek to Jarang (3400m) after crossing Rupina La pass 4643m
Day 9  Trek to Nyak (2350m)
Day 10 Trek to Philim - ( 1600m) Camp/Lodge
Day 11 Trek to Machha Khola (950m) - Camp/Lodge
Day 12 Trek to Soti Khola then drive to Arughat (700m) - Camp/Lodge
Day 13 Drive to Kathmandu - Hotel
Day 14 Free Day in Kathmandu Lust and Launa Explore Around City Self - Hotel
Day 15  Free day and final depart to hom or other destination.