Humla Limi Valley Trekking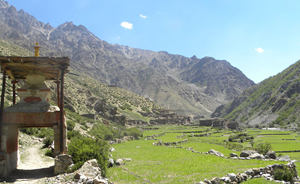 Trekking the Limi Valley Trail to Mt. Kailash Gateway Hilsa Simikot is one of the best wilderness trek that exist in the world for its exquisite natural beauty, ancient Tibetan Buddhist culture and different ecological footprint trek in Nepal. Our once-in-a-lifetime journey to Kailash begins in the fabled district of Humla, located in the remote far western corner of Nepal. From here we begin our ten-day trek to the Tibetan border through the remote Limi Valley, a place classed by many as the modern day Shangri-la. Here the inhabitants are predominantly Bhotias, of Tibetan descent.

This wild, remote Limi Valley trek takes us deep within a region of truly unspoiled natural beauty; here a diverse culture exists where people, nature and an abundance of rare wildlife exist in harmony. The path we will follow is of the ancient Silk trade route, where old men with weathered, Central Asian faces, still to this day trade supported by their trains of mule, horse & sheep. Here the men sit smoking a hookah & the omen of Rajasthani descent adorn themselves in mirrors and silver coins, the Bhotias, in their turquoise, coral and amber necklaces.

In this swath of the Trans-Himalayan plateau, the mountain scenery is spectacular; the Saipal and Nalakankad range is never far away with its dominating presence over the nearby horizons. This is one of the few remaining places where the Tibetan culture stills exists in its pure form, a form untainted by the Chinese occupation which has otherwise affected much of Tibet. 
Trip Itinerary
Day 1 Arrival to Kathmandu
Day 2 sight seeing in Kathmandu
Day 3 Fly to Nepalgunj evening.
Day 4 Fly to Simikot (2950 m) & trek to Dharapori (4 hrs)
Day 5 Trek to Kermi (2670 m) (5 hours)
Day 6 Trek to Lahi Sing Kharka-3640 m (6-7 hours)
Day 7 Trek to Khyungar- 4000 m (3-4 hours)
Day 8 Trek to Talung (4325 m) via Nyalu Pass, 4915 (7 hours)
Day 9 Trek to Tashi Thang (3900 m), (Hot spring) (6-7 hours)
Day 10 Rest day in Tashi Thang
Day 11 Trek to Till chu (3580 m) (6 hours.)
Day 12 Trek to Manipeme (3990 m) (6 hours)
Day 13 Trek to Sher. Cross Karnali and Hilsa Border (3600m) - Guest House
Day 14 Trek to Yari over Nara La pass (4600m) - (Yari 3600m) Camp
Day 15 Trek to Tumkot khola/Muchu Village (3100m) - Camp
Day 16 Trek to Salle Khola Via Yalbang Village and Gompa (2500m) -Camp
Day 17 Trek to Dharapuri Village Via Kermi (2400m) - Camp
Day 18 Trek to Simikot and Explore around Simikot checking Flight to Nepaljung (2950m) - Guest House
Day 18 Early Morning Fly to Nepaljung and Fly to Kathmandu (1300m) - Hotel
Day 18 Full Free Day Lust and Launa/Relax in Kathmandu (1300m) - Hotel
Day 18 Free day and final depart to hom or other destination.