Tsum Valley Trekking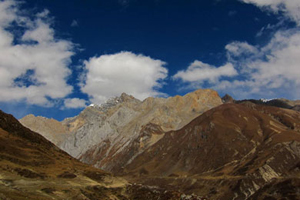 Tsum valley trekking is a part of Manaslu Trek. Tsum is recently opened home trekking for Trekkers. It is restricted area for trekking in Nepal which is located in trans-Himalayan region of Gorkha District. Tsum Valley is a sacred Himalayan hidden valley circle by the Baudha Himal, Himal Chuli, Ganesh Himal, Sringi Himal, Manaslu Himalayan Range etc. The Valley is extremely rich in cultural assets. Tsum is dotted with monasteries, chortens and mani walls. Tsum preserves steps of the great Buddhist Yogi Chyuchin Milarepa and story about Guru Padmasambhava circumbulation. All people of Tsum valley never slaughter animals, even as sacrifice to the gods. Tsum Valley's associate with Tibet, natural beauty and its pristine culture make this trekking unique. Tsum valley is rich in ancient art, culture, and religion. Local people are Tibetan origin and seak a unique dialect. The ancient remains of the Tsum Kingdom are still visible today.
Due to its remoteness and inaccessibility, this sacred valley and its people have been by passed by mainstream development for centuries. Tsum valley trek are strewn with artistic chortens and lined with Mani walls made of thousands of stone slabs carved with drawings of deities and inscribed with prayers. The famous Kyimo Lung,a pilgrimage circuit in the central Trans-Himalaya is a well known seat of learning and a seat of meditation. The circuit traverses across Tsum Valley, Manaslu area in Nepal and southern parts of Tibet. As a result, the unique culture of this valley has also remained fairly intact. Tsum valley trekking commence from Arughat in Gorkha district, which is easily accessible from Kathmandu. We arrange Tsum Valley trekking according to Guest holiday schedule.