Tilicho Base Camp Trekking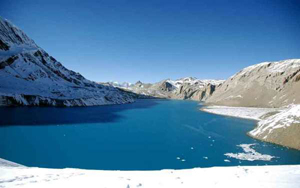 Regarded as one of the highest lakes in the world, it rests in the stunning location in the Annapurna region at an altitude of 5,000 meters. It was also the site of one of the highest ever altitude scuba dives in the year 2000. Tilicho Lake collects the glacial melt of the entire northern slopes of Annapurna and Thorung.

This trek begins from Besisahar which goes along the Marshyangdi River, with great views of Manaslu and Himal Chuli to the east. We then skirt Tilicho Lake from the north as its gaining more popularity; where we will camp for a night. From our camp by the shores of the lake, we climb up to the Mesokonto La where we are rewarded with the first views of the Kali Gandaki Valley. Along the trail we will upstream to Kagbeni and up a side valley to the shrine at Muktinath, sacred to Hindus and Buddhists alike.
Trip Itinerary
Day 01 Drive from KTM to Besi Sahar and trek to Bulbule - Jagat overnight Lodge (L+D).
Day 02 Trek to Dharapani(1800 m) and stay in simple Lodge(B/F+L+D)
Day 03 Trekking to Darapani to Chame (2713m) and stay in simple Lodge(B/F+L+D)
Day 04 Trekking to Chame (2.900m) and stay in simple Lodge (B/F+L+D).
Day 05 Trekking to Pisang (3.185m) and stay in simple Lodge (B/F+L+D).
Day 06 Trekking to Manang (3351m) and stay in simple Lodge (B/F+L+D).
Day 07 Rest day at Manang for acclimatization (B/F+L+D).
Day 08 Trekking to Shree Kharka via Khangsar village(4150m) and stay in simple lodge (B/F+L+D).
Day 09 Trekking to Tilicho Base Camp (4.200m) and stay in simple Lodge
Day 10 Early morning trek to Tilicho Lake and back to TBC. and stay there
Day 11 Trekking to Yak Kharka overnight in Lodge 4000m (B/F+L+D).
Day 12 Trekking to Thorong Phadi 4450m. and stay there (B/F+L+D).
Day 13Trekking Muktinath via High pass Thorongla pass 5416m and Muktinath 3800m(B/F+L+D)
Day 14 Drive to Jomsom and stay jomsom or Drive to Tatopani Lodge.(B/F+L+D)
Day 15 Fly to Pokhara or Drive from Tatopani to Pokhara . Hotel B/B plan.
Day 16 Drive or Fly to Kathmandu or onward destination.