Nepal General Information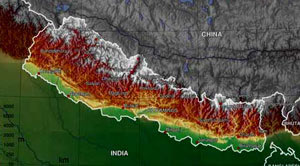 Nepal Surrounded by the greatest heights of the Himalaya, the republic of Nepal is a land of eternal attraction, a place where one visit is hardly ever enough. It's a land of colorful cultures, ancient history and people, superb scenery and some of the best walking on earth. Nepal's history is closely related to its geographical location, separating the fertile plains of India from the desert-like plateau of Tibet. Its position between Indian and China meant the country was able at times to play the role of intermediary - a canny trader between two great powers - while at other times it faced the threat of invasion. Internally, its history was just as dynamic, with city-states in the hills vying with each other for power until one powerful king, Prithivi Narayan Shah, overran them all. That history is very visible today with the three great towns of the Kathmandu valley - Kathmandu, Patan and Bhaktapur - still bearing witness to their days as fiercely competitive mediaeval mini-kingdoms. Indeed, in Nepal it's often possible to suspend belief and mentally roll the clock right back to the mediaeval era. Nepal is popular destination in the world for trekking, mountaineering, whitewater rafting, wildlife safari and other many different adventure activities due to its extreme high Himalayan ranges and wonderful biodiversity. The Himalayan range content close to the one third of the entire greater Himalaya range including 8 of the world's 10 highest mountains.

Nepal include about 1300 other mountain peaks well above 6000 meters high resting in this region and below 6000m consists Glaciers, open windy barren, passes and Ri peaks. Among many things, this country's natural beauty, and people's tradition and culture are widely noted by Hundreds of Thousands of travelers who visit this land every year. Nepal also has Ten World Heritage Sites which are regarded as the Himalayan Spirit which Lives and Breathes! And some of the highest mountains in the world including Mount Everest lives in Nepal. Many other travel ingredients attract tourists to this land, and not to forget the friendliness and warmth of Nepali people. Nepal is a Secular State, which is geographically, religiously, culturally, ethically and linguistically diverse - one solid reason why a small country like this offers so much to see for travelers. Here, above all, Guests are regarded as God, and a popular phrase is learnt by Nepalese from the early age Guest Equals God so you treat Guests with honor as you would to God.

Trekking is not the only activity which draws visitors, it also has some superb white-water rafting opportunities, mountain biking, which is become more and more popular, and down in the jungle, safaris on elephant-back into the Royal Chitwan National Park are another not-to-be-missed part of the Nepal experience.