Langtang Gosaikunda Trekking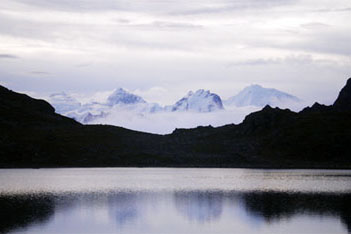 About Langtang Valley, Gosainkunda and Helambu
Known as 'the valley of glaciers', Langtang valley is one of the most popular trekking routes in theLangtang region. Located at the north of Kathmandu, from where we drive 7—8 hrs to Syabru Bensiand begin the trek. Since, we will be trekking in the Langtang valley, Gosainkunda and Helambu; the trek turns becomes the perfect blend of adventure, ethnic culture coupled with spectacular mountain views. The entire trail winds through the culturally rich Tamang village in Langtang region and Sherpa village inHelambu along with the breath-taking mountain views, stunning landscapes and the lake of Gosainkundaat an altitude of 4300m.

However, almost 75% of our trekking time is spent on Langtang National Park which is the first Mountainous region National park of Nepal. It is a habitat to rare animals such as Musk deer and Red Panda.

We also offer trekking services in the Helambu region; please follow through our separate section for 'Helambu' to learn more about the trekking in that particular area.




Trip Itinerary
Day 01: Arrival to Kathmandu airport and transfer to hotel
Day 02: Half day valley sightseeing tour and necessary preparation for the trek
Day 03: Drive to Syabru Bashi(1450m) and overnight teahouse
Day 04: Trek to Lama hotel (2400m)
Day 05: Trek to Langtang Village (3400m)
Day 06:Trek to Kynging Gompa (3800m)
Day 07: Hiking around Tserkuri back to Kyngin Gompa
Day 08:Trek to Trek to Lama hotel(2400m)
Day 09: Trek to Thulo Syabru Village (2400m)
Day 09: Trek to Sing Gompa (3300m)
Day 10: Trek to Gosainkunda (4300m)
Day 11: Explore Gosainkunda Lake and Back to Cholang Pati (3700m)
Day 12: Trek down to Dhunche guest hous.
Day 13: Drive Back to Kathmandu hotel
Day 14: Free day in Kathmandu
Day 15: Transfer to international airport.