Manaslu Trekking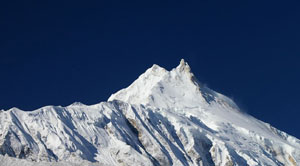 Manaslu better known as 'Moutain of the Spirit' is the eight highest mountain in the world standing 8,163 meters tall above sea level. It is the highest peak in the Lamjung district located about forty miles east of Annapurna. TheManaslu region offers a variety of trekking options and it was only opened for trekkers in 1991. The trekking trail follows an ancient salt-trading route along the Budhi Gandaki River.

Why Manaslu Circuit Trek?
Manaslu Cicuit is a challenging trek around 'Manaslu' the world's eighth highest mountain and crossing Larkya La pass. The 20 days long trek starts at the town of Arunghat after the 6 hours private drive, passing through bamboo forests and Gurung villages in the narrow Buri Gandaki gorge. After Lho village we enter the Nupri region inhabited by Tibetan immigrants where we get to see colorful flags and monasteries along the way. After passing Samdo village we move towards theLarkya La pass a challenging pass. If conquered, it bestows you with breath-taking views of Himal Chuli, Manaslu, Cheo Himal and Himlung mountains.

This trek is sure to amaze you with its beauty of snow-capped mountains, tropical areas bustling with ferns, bamboos, pine, waterfalls and aqua blue-green lakes laced with cotton white beaches.
Trip Itinerary
Day 01: Arrival to Kathmandu airport and transfer to hotel.
Day 02: A day sightseeing in kathmandu and trek preperation for manaslu trek. Hotel.
Day 03: Trek to Arughat Bazaar(490m)
Day 04: Trek to Lapu Bashi village.(1000m)
Day05 : Trek to Dovan via Machha Khola(930m)
Day 06: Trek to Philim via Jagat, Entry Manaslu Conservaiton Area and Special Manaslu Permit,(1560m)
Day 07: Trek to Dang (1920m)
Day 08: Trek to Nambrung (2380m)
Day 09: Trek to Low Goun (3180m)
Day 10: Trek to Sama Goun (3360m)
Day 11: Rest Day in Sama Goun
Day 12: Trek to Samdo (3900m)
Day 13: Trek to Larkhe Base Camp (4390m)
Day 14: Trek to Bhimtang (3630m) vai Larkhe-La (5250m)
Day 15: Trek to Dharapani Via Tilje Village, Finished Manaslu Special conservation Area entry Annapurna Circuit Trail trek.(2240m)
Day 16: Trek to Jagat (1290m)
Day 17: Trek to Bulbule (820m)
Day 18: Trek to Bashishar drive to Kathmandu.
Day 19: Kathmandu free day for refreschment before back home.
Day 20: Transfer to international airport .

NOTE: The Itinerary can be customize as per your request. Please contact our Manalsu Trekkign Expert Team Member for tailor made trekkign. Now a days the trek can begin from Arughat as well in that case 2 days shorter the normal trekking itinerary.