Upper Dolpo Trekking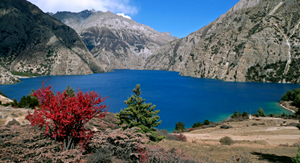 Upper Dolpo lies West North in Nepal, but it is different. Contrary to what one imagines is commonly Nepal. Opened only in 1993 for tourism, it is still a little-known gems of Tibetan Buddhism. People call you a friendly "Tashi Delek" to monasteries like eagles' nests on rock walls, prayer flags fluttering noisily on each passes.
The beginning of this Upper Dolpo journey from the beautiful old Newar city of Bhaktapur near Kathmandu. Afterwards we continue to the southwest of Nepal on the border with India: Nepalgunj is the center of a major rice-growing area and is considered an important transfer station on the way into the remote western Nepal. From here, you can start with a flight to Juphal. Like a bird, you can admire the mountains and valleys from the air.
There you start your trekking tour around the magical Dolpo. Repeatedly along wild rushing rivers, and occasionally this crossing, past and ancient chorten Mani walls leads the trek over three 5,000-m-passes. In the idyllic villages Dolpos invite wrapped in red robes monks in their often centuries-old monasteries. Some people will be the charm Dolpos soon succumbed.
After 18 wonderful days of trekking the round is over. They fly via Nepalgunj finally back to Kathmandu, where you can end the trip before flying home yet.




Trip Itinerary
Day 1 : Farewell to home
Day 2 : arrival in another world. The Newar city of Bhaktapur Nepal.
Day 3 : Flight to Nepalgunj: In the Southwest
Day 4 : Into the heart Dolpos. Flight to Juphal (2,550 m) and trek to Dunai (2150 m)
Day 5 : Canyon hike. Trekking to Tarakot (2,550 m)
Day 6 : Trekking high. Trekking to Lahiniwiese (3,300 m)
Day 7 : Along the Tarapchu
Day 8: Along an ancient trade route. Trekking to Dho (4,050 m)
Day 9 : Acclimatization in Dho (4,050 m). Cultural Experience Monastery
Day 10 : The north trek to High Camp (4,600 m) at La Chhoi
Day 11 : The first pass: Trekking via Chhoi La (5,025 m)
Day 12 : Tibet is not far off. Trek to Shimen (3,900 m)
Day 13 : The longest Mani walls in Nepal. Trekking to Komang (4,200 m)
Day 14 : Wild paths and monastery Yang Chernobyl. Trekking to the riverbed (3,700 m)
Day 15 : Herbal center. Trekking to Namkhong (4,200 m)
Day 16 : The second pass: Sela La (5094 m). Trek to Shey
Day 17 : The monasteries of Shey. Trekking to the base camp (4,600 m)
Day 18 : The third pass: Kang La (5360 m). River crossings and camp in the pine forest
Day 19 : For lake. Trekking to Phoksundo (3,700 m)
Day 20 : Down, down, down. Trekking to Chepka
Day 21 : Goodbye. Trekking to Jhupal
Day 22 : Birds eye view. Flight to Nepalgunj and Kathmandu
Day 23 : Discover Kathmandu
Day 24 : Shopping & Sightseeing in Kathmandu. Home
Day 25 : Fly to Home.