Tashi Lapcha Pass Trekking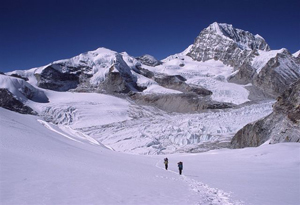 Rolwaling Tashi Lapcha pass trekking one of the finest wilderness trekking route in the Nepal. The trekking is one of challenging trek trail in Rolwaling region. Rolwaling taschi lapcha pass trekking combination both Rolwaling valley and Khumbu valley which provides the trekking an experience of the remoteness of eastern region of Nepal. Rolwaling Tashi Lapcha pass trekking offer romantic mountain views including Gaurishanker, Jugal Himal, Rolwaling Himalaya range, Khumbu Himalaya region, Chobabhamre, Pachhermo peak, diverse flora and fauna and rich local cultures. Rolwaling Tashi Lapcha pass trekking required a good walking/ hiking experience and a good physical fitness because of Tashi lapcha pass is one of the challenging and high pass adventure points of this trekking. Rolwaling tashi lapcha pass trek escapes from the well trekked trails to explore the untouched ridges and valleys below Gaurishankar range and combines a wide variety of scenery, passing through charming, tranquil villages, while we enjoy spectacular panoramic views of Gaurishanker Himal, Jugal Himal and the Rolwaling range. Rolwaling Valley is One of the Nepal's best kept secret valley and closed many years for trekkers because of this valley is settled predominantly by Sherpas and lies be neath the mighty peak of Gauri Shanker 7145m close to the Tibetan border. Trekking stat from kathmandu drive to Barabise. The dark narrow valley of Rolwaling opens wide near villages of Beding (3,510m) and Na (4,120m). Here one can easily spend few days exploring Yak pastures and taking side trips to Yalung Base camp. Above Na Gaun, the trail meanders up to Tso Rolpa 4540m and up to the lateral moraines of the Rolwaling glacier below the Rolwaling icefall 5181m. After two days of rugged glacier walking one reaches high Tashi Lapcha Pass 5755m. On the other side of the Tashi Lapcha, the trail drops down into Thame village 3790m than trail continue leads to the Namche bazaar one of the beautiful place in Everest trekking. Then trek continue leads to Lukla and flight back to kathmandu.
Trip Itinerary
Day 1 Arrival to Kathmandu airport and transfer to hotel
Day 2 Half-day sightseeing tour and necessary preparation for the trek
Day 3 Drive to Dolakha (5 hrs). Camp.
Day 4 Trek Dolakha to Piguti (920m). (4 hrs). Camp.
Day 5 Trek Piguti to Suri Dobhan (1,030m) (5 hrs). Camp.
Day 6 Trek Suri Dobhan to Jagat (1,150m) (5-6 hrs). Camp.
Day 7 Trek Jagat to Simagaun (1,990m) (5 hrs). Camp.
Day 8 Trek Simagaun to Kharka (2,900m) (6 hrs). Camp.
Day 9 Trek Kharka to Beding (3,690m) (4 hrs). Camp.
Day 10 Rest day at Beding for better acclimatization. Camp.
Day 11 Trek Beding to Na (4,180m) (5 hrs). Camp.
Day 12 Rest day at Na to explore the surrounding. Camp.
Day 13 Trek Na to Chhyugima Lake (4,540m) (7 hrs). Camp.
Day 14 Trek to Tashi Lapcha Base Camp (5,010m) (5 hrs). Camp.
Day 15 Cross Tashi Lapcha Pass (5,755m) (5 hrs)
Day 16 Trek to Ngole (5,110m) (5 hrs). Camp.
Day 17 Trek to Thame (3,820m) (5 hrs). Camp.
Day 18 Trek to Namche Bazaar (3,440m) (5 hrs). Camp.
Day 19 Rest / Spare day at Namche. Camp.
Day 20 Trek Namche to Lukla (2,840m).6 hrs Camp.
Day 21 Flight: Lukla - Kathmandu. Hotel Overnight.
Day 22 Free day in Kathmandu
Day 23 Departure to Airport and Back to Home.