Upper Mustang Trekking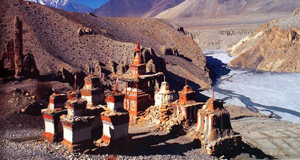 The Kingdom of Lo or better known as 'Upper Mustang' comprises the northern two-thirds of the Mustang district. Life is Mustang pretty much revolves around tourism, animal husbandry and trade. The trek to Upper Mustang starts from beautiful Pokhara crossing the Annapurna conservation area. The Home Ministry of Nepal has announced the region as a restricted area; hence visitors need to get special permissions from the department of immigration to visit this area. But when you are trekking with us 'Nepal Footprint Holiday', we will take care of everything so that you travel hassle free.
Why Upper Mustang trek?
The Upper Mustang trek is one of the most popular destinations amongst travelers, for those wishing to experience the remotest of areas. The ancient monastery, over thousand years old cave and Himalayan mountain desert with local ethnic groups of Tibetan society are the main highlights of this region.
Mustang still has a Mustangi Raja (state king of Mustang) the only one state king of Nepal; you might also manage to visit the Royal palace during the visit. However, the beauty of this trek is your chance to walk through unique landscape, a steep rocky trail up and down hill coupled with panoramic views of Nilgiri, Annapurna, Dhaulagiri and several other snow-capped peaks.
So are you ready to enjoy this adventurous trail to the World's top base camp?
Trip Itinerary
Day 01: Arrival Kathmandu to airport and transfer to hotel.

Day 02: Half-day valley sightseeing tour and necessary preparation for trek

Day 03: Drive/Fly from Kathmandu to Pokhara overnight at hotel.

Day 04: Pokhara fly to Jomsom (2713m) and trek to Kagbeni (2810m.)

Day 05: Trek to Chele (3200m.)

Day 06: Trek to Shyangboche (3800m.)

Day 07: Trek to Tsarang (3650m.)

Day 08: Trek to Lo Monthang (3760m.)

Day 09: Excursion to King Palace and visit Mustang King at his palace

Day 10: Trek to Lo Ghekar (3800m)

Day 11: Trek to Geling (3510m)

Day 12: Trek to Samar (3700m.)

Day 13: Trek to Tetang (3100m.)

Day 14: Trek to Muktinath (3800m.)

Day 15: Excursion day in Muktinath

Day 16: Trek to Jomsom (2713m.)

Day 17: Jomsom fly back to Pokhara and overnight at hotel

Day 18: Pokhara drive/fly back to Kathmandu overnight at hotel

Day 19: Full day sightseeing around Kathmandu valley evening free

Day 20: Transfer to International airport

Note: Itinerary Can be Customize as your Requirement. If this above itinerary is not suffice or have any questions, you can ask one of our expert team member for help.