Kali Gandaki River Rafting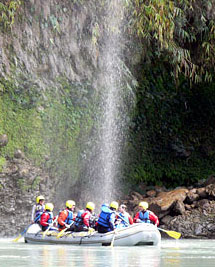 Kali Gandaki is a very beautiful river for river rafting. Therefore, many tourists are really interested to go there do to do so very often. The natural scenery around this section is really fantastic and unspoiled, as the water flows through narrow gorges; rafters get an opportunity to see exotic wildlife in the surrounding jungles.

Kali Gandaki, a tributary of the Trisuli, originates in Mustang along the Nepal/Tibet boarder. It is relatively flat until it reaches Kalopani where its gradient substantially increases and the river takes on an entirely different feel. The river here winds its way though steep mountain gorges and lush tropical forests providing beautiful scenery for the entirety of our rafting trip. The Kali Gandaki is one of the most remote rivers in Central Nepal as there are no roads or trekking trails that follow the river. Because of this the river canyon is extremely pure and unspoiled. The local villagers that we meet along the way have seen very few Westerners and will be very curious and friendly toward you. As we work our way down through these gorges we will have plenty of opportunity to test our rafting skills against continuous class 4 whitewater. After long days of paddling you will be able to kick up your feet and relax as the guides prepare an appetizing dinner. With a full stomach we can sit back around the camp fire, look at the stars, reminisce about today and dream about tomorrow
Trip Itinerary
Day 01: At around 7 am, we drive to the put-in point at Beni. Throughout this drive we have stunning views of the Annapurna and Dhaulagiri peaks as well as the sacred Machapuchare. Upon arrival, we unload all the equipment and you will receive a full safety briefing. Have lunch and then the guide will take you to the river starting point ready to begin your exciting 3 days rafting trip. First day we begin with plenty of class III rapids this is a warm up for the team. Your guide will be making you work hard at doing exercises to work as a team maneuvering the raft efficiently. After scouting the rapid, the safety kayaks will go first then the raft. Soon after encountering two big rapids we will reach the Modi Khola confluence where we will choose the beach for the evening campsite.

Day 02: Once the rafts are packed we start down the river for a day mixed with adrenaline, calm and spectacular scenery including views of Annapurnna 1 and Himachuli. We will tackle many class III sections and the challenging class IV named REFUND. This section of river is abundant with vines and lush vegetation hanging from the cliff faces. Our campsite is below the village of Purti Ghat.

Day 03: Soon after being back on the water we reach the holy village of Seti Beni. The river has deposited a house size boulder in the confluence with a smaller tributary. Since confluence is considered holy places in the Hindu religion, this boulder has become an important shrine to the local river people. There is usually a great audience to watch and listen to the spectacle as each team negotiates the rapid that has formed around this holy place. Not long after this it is time for the journey to end. Our bus will be waiting for us. We load up the gear and prepare for the bus journey back to Pokhara.