Pisang Peak Climbing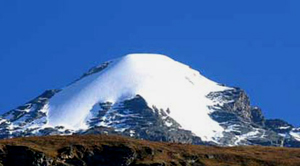 Pisang Peak Annapurna Nepal- Climbing Pisang Peak is one of the popular peaks for climbing in Nepal and rises opposite of Annapurna II (7937) in Annapurna Circuit Trek-Manang Valey. Pisang Peak lays roughly in between the giants' Annapurna I and Manaslu both over eight thousand's mountain. Pisang Peak rises above from Pisang village and yak pastures in a uniform slope of ice and snow to the final summit pyramid. Pisang Himalaya is considered as the easy climbing peak in Nepal. To reach the base camp from Pisang village, the path ascends through sparse wood and pasture to a Kharka at (4,380m) which is considered the best place for setting up the base camp. High Camp is set up at 5,400m climbing to a shoulder on the South-West Ridge. There will be snow at the high camp from the end of November to the end of March. The well-defined ridge leads to the final snow slop, which is quite steep but not difficult to reach the summit. Descent is made on the same route.This interesting climb starts from Besisahar in the Valley of the Marsyangdi River in Annapurna Ciruit Trekking Valley. A major intersection of the trail meets at Dharapani while trekking through Larkya La pass from Manaslu Circuit Trek. The Massif of Manang valley is really rich in unique culture and landscapes infact the Annapurna and Damodar peaks dominate the valley. The trail from here follows a demanding walk to the Pisang Peak . A technical section takes you to a place from where you can catch the entire panorama of the Annapurna Himalaya Range . The trail then ascends from the Manang valley to reach the top of the Thorong Pass at 5416m. After this you have a chance to visit the famous temple of Muktinath . The final part of the trek takes you to Jomsom from where a flight transports you across the great Himalayas to Pokhara or you can continue make trekking through Ghorepani poon hill than Pokhara.
Trip Itinerary
Day 01: Arrival to Kathmandu airport and transfer to hotel

Day 02: Half-day sightseeing tour and necessary preparation for the trek

Day 03: Drive to Bensisahar 6 hours by bus andtrek to Bulbule 2 hours.

Day 04: Bulbule to Jagat (1411m) - 6½ hours.

Day 05: Jagat to - Dharapani (1933m) - 6½ hours.

Day 06: Dharapani to Chame (2743m) - 6 hours.

Day 07: Chame to Pisang (3213m) - 6½ hours.

Day 08: Rest day in Pisang and acclimatization for high altitude.

Day 09: Pisang Kharka (4,380m) use this place as the Basecamp

Day 10: Kharka High camp (5,400m)

Day 11: High camp Summit Pisang peak (6091m) and descend to the Pisang village

Day 12: Pisang - Manang (3351m) - 4 hours.

Day 13: Manang - Yak Kharka/ Lather (4000m) - 5 hours.

Day 14: Lather - Thorongphedi (4510m) - 3 hours, spend whole day for the rest.

Day 15: Thorong Phedi - Thorong-La pass (5,416m) - Muktinath (3800m) - 9 hours.

Day 16: Muktinath - Kagbeni (2800m) - Jomsom (2726m) - 5 hours.

Day 17: Fly to Pokhara in the morning, arrive and visit Pokhara

Day 18: Drive east to Kathmandu (200km/7 hrs) by bus or fly to Ktm. - 35 minutes.

Day 19: Sightseeing in ancient and historical city of Bhaktapur.

Day 20: Free days (Shopping), Cultural program show and farewell dinner in the evening.

Day 21: Depart. From hotel and transfer to Airport.

Note: Itinerary Can be Customize as your Requirement. If this above itinerary is not suffice or have any questions, you can ask one of our expert team member for help.