Chulu West Peak Climbing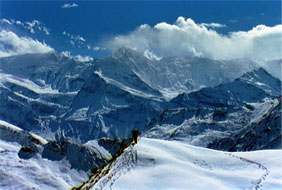 This trek to Chulu West to the north of the Annapurna range is rather a strenuous trek that requires you to walk 8 to 9 hours a day, often at high altitude. The peak was first ascended in 1952 by a Japanese expedition. Basically there are two Chulu (East and West), and Chulu west is higher compared to East.

The base camp of Chulu west is situated in a small valley north of Manang, off the main trail to the Thorang La. However, there is still a controversy regarding the name and location of the Chulu peaks. There are several peaks close by and are also a part of Chulu massif; but are not indicated in the map well. Hence, it is difficult to differentiate between the two Chulus.

Climbing this peak also requires a basic knowledge of mountaineering, although our experienced Guides will guide and accompany you to the top. Once you conquer the peak you will be rewarded with the spectacular view of Mt. Dhaulagiri, Tukuche peak, Nilgiri, Annapurna and many more.

Trip Itinerary
Day 01: Arrival to Kathmandu airport and transfer to hotel

Day 02: Half-day sightseeing tour and necessary preparation for the trek

Day 03: Drive to Bensisahar 6 hours by bus andtrek to Bulbule 2 hours.

Day 04: Bulbule to Jagat (1411m) - 6½ hours.

Day 05: Jagat to - Dharapani (1933m) - 6½ hours.

Day 06: Dharapani to Chame (2743m) - 6 hours.

Day 07: Chame to Pisang (3213m) - 6½ hours.

Day 08: Pisang - Manang (3.535 m) 7 h.

Day 09: Rest day at Manang Explore around Manang visit Monastry .

Day 10: Manang - Letdar (4.250 m) 4 h.

Day 11: Lether - Chulu West Base camp (4.900 m). 3/4 h.

Day 12: Climbing period

Day 13: Climbing period

Day 14: Climbing period

Day 15: Letdar - Thorung Phedi (4.420 m), h 3.

Day 16: Thorung Phedi - Thorung La (5.416 m) - Muktinath (3.800 m), h 8/10.

Day 17: Muktinath - Kagbeni - Jomsom (2.713 m).

Day 18: Jomosom – Pokhara by flight

Day 19: Drive east to Kathmandu (200km/7 hrs) by bus or fly to Ktm. - 35 minutes.

Day 20: Depart. From hotel and transfer to Airport.

Note: Itinerary Can be Customize as your Requirement. If this above itinerary is not suffice or have any questions, you can ask one of our expert team member for help.