Island Peak Climbing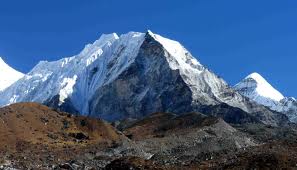 Standing at 6173 meters 'island Peak' is a real Himalayan summit that offers some of the most spectacular views across the Khumbu region. Also known as 'Imja Tse' Island peak is one of the most popular trekking peaks in the Himalayas of eastern Nepal. Therefore, climbing Island Peak is an incredible experience for all adventurous trekkers. The peak was named 'Island peak' by Eric Shipton's party in 1951, since it seems like an island in a sea of ice when viewed from Dingboche.

Climbing the Island Peak
There are two options for conquering this peak, one is a climb starting from a base camp at 5,087 meters calledPareshaya Gyab and the other is a popular high camp at around 5,600 meters. An ascent of Gokyo Ri and KalaPattar proves a good acclimatization hike and gives you spectacular close up views of the world's highest mountains including Mt.Everest, Lhotse, Nuptse, Makalu and many more.

This trek is especially designed for adventurers looking for a challenging and 'off the beaten path' which requires climbing and trekking experience to cross come of the most famous high passes and peaks.

Trip Itinerary
Day 01: Arrival to Kathmandu airport and transfer to hotel

Day 02: Half-day sightseeing tour and necessary preparation for the trek

Day 03: Flight to Lukla 2800m. & trek to Phakding 2610m

Day 04: Phakding to Namche Bazaar 3440m.

Day 05: Rest at Namche Bazzar for acclimatization

Day 06: Trek to Tengboche 3800m.

Day 07: Tengboche Pheriche 4200m.

Day 08: Pheriche Lobuche 4900m.

Day 09: Trek to Kalapathar 5545m and back to to Lobuche

Day 10: Trek to Dingboche 4300m.

Day 11: Dingboche Chukung 4730m as approach Island peak trek.

Day 12: Chukung Island Peak Base camp at 5000m.

Day 13: High camp 5300m ( approx.)

Day 14: High camp summit 6163m. & back to base camp

Day 15: Base camp Tengboche 3800m.

Day 16:Tengboche Namche Bazaar

Day 17: Namche Phakding

Day 18: Phakding Lukla

Day 19: Fly Kathmandu early morning , leisure in Kathmandu

Day 20: Kathmandu, spare day for trek, farewell Nepali dinner with ethnic cultural show.

Day 21: Transfer to international airport

Note: Itinerary Can be Customize as your Requirement. If this above itinerary is not suffice or have any questions, you can ask one of our expert team member for help.