Mera Peak Climbing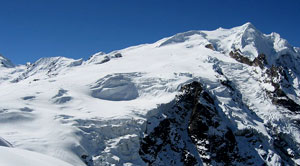 The Mera Peak 6476 meter, is one of the most beautiful vistas in the Everest region that offer five different 8000 highest peaks among the 14th of them. Our adventurous journey to Mera Peak starts from a 40 minutes flight from Kathmandu to Lukla. The trek to its base camp from Lukla is very rewarding for experiencing the less crowded and un-spoilt region of Nepal with densely forested hill sides. The normal route for climbing Mera Peak is North face glacier from the Mera La. The base camp can be set up at 5, 300m on the Hongu side in the moraine below the ice. The vigorous climb to the summit offers the panoramic views of the surrounding majestic peaks including world's highest peaks Mt. Everest, Mt. Kanchenjunga, Mt. Lhotse and Makalu. After a successful trip, we track to Lukla via same path.
Trip Itinerary
Day 01: Arrival to Kathmandu airport and transfer to hotel

Day 02: Half-day sightseeing tour and necessary preparation for the trek

Day 03: Transfer to airport for the flight to Lukla (2800m) & prepare for the trek to base camp O/N Camp.

Day 04: Lukla to Chutanga (3173m) ascents up the luxuriant mountainside & O/N camp

Day 05: Rest day at Chutanga for acclimatization & O/N camp.

Day 06: Chutanga to Thuli Kharka (4401m). Climb through the Zatrwa where you will get prominent vision of the Himalayas in extensive Number & continue to Zatrwa La and descend to Tuli Kharka.

Day 07: Thuli Kharka to Tashing Dingma (3502m). As we descend through uninhabited terrain we enjoy forests of rhododendron, pine and birch.

Day 08: Tashing Dingma to Tangnag (4355m). We traverse the Hinku Dranka then climb through Kharka to Tangnag, surrounded by Mera Peak, Kusum Kangru and other peaks.

Day 09: Rest day at Tangnag for acclimatization & exploration. O/N Camp.

Day 10: Tangnag to Khare Mera Base Camp (4730m). You have to follow the glacial lateral moraine up to a camp in an open plain beside the Dig Glacier.

Day 11: Today is a rest day where you will acclimate, explore and prepare your equipment for glacier, snow and ice practice the following day.

Day 12: Khare (Mera Base Camp) to Mera-La (5415m). We hike up lateral moraine to near the toe of the Mera glacier, and ascend easy snow slopes to base camp at the Mera La.

Day 13: High camp (5800m). Climb up to the high camp on a rocky ridge. From high above the Hinku and Hongu valleys you will get fantastic views of Chamlang and Makalu to the East.

Day 14: Summit day. We get up early and continue up the Mera Glacier and connect with the summit ridge. After traversing the Central Summit you will arrive on the higher Western summit by a classic ridge climb & descend back to Tangnag.

Day 15: Tangnag to Orshela (4303m).

Day 16: Orshela to Chutanga (3173m).

Day 17: Chutanga to Lukla. Your last trekking day is short and takes you back to the town of Lukla.

Day 18: Fly to Katmandu, transfer to the hotel .

Day 19: Transfer to international airport

Note: Itinerary Can be Customize as your Requirement. If this above itinerary is not suffice or have any questions, you can ask one of our expert team member for help.