Chulu East Peak Climbing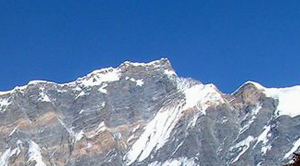 Chulu East Himalaya (6,584 m.) is situated high above the Manang valley in Annapurna Circuit Trek Area Nepal with breathtaking views across to the Annapurnas II, III and IV, Gangapurna, Glacier Dome, Dhaulagiri, Tilicho Peak and Manaslu. The Chulu East Mountain climb is combined with the classic trek around the Annapurna massif, ascending the Marshyangdi valley and crossing the Thorong La, before descending the Kali Gandaki valley to Pokhara. The climb is technically straightforward and you should be familiar with the use of your equipment, crampons, harness, ice axe, tying knots and handling climbing ropes. Most of the climbing will be involved walking roped together, including the glacial crossings. You should be very fit and have good experience of climbing. Chulu East to the north east of the Annapurna Range is an ideal objective for those extending their climbing experience beyond the trekking peaks of the Everest region. It is also well suited for an expeditionary style ascent with group members playing an active role in establishing the intermediary camps while preparing for the summit. Appreciating the delights of our approach trek in the Annapurna region we gradually ascend to the Manang Valley. After establishing base camp we plan our two intermediary camps on the North East Ridge. While our team of Sherpas provide support, group members will be encouraged to load carry and establish the high camps in order to improve acclimatization, fitness and for optimum chances of summiting. The final ridge climb to Chulu East is technically straightforward - with rewarding views south to the Annapurna and north to peaks that define the border of the vast Tibetan Plateau.
Trip Itinerary
Day 01: Arrival to Kathmandu airport and transfer to hotel

Day 02: Half-day sightseeing tour and necessary preparation for the trek

Day 03: Drive west to Bensisahar 7 hours by bus and Tresk to Bulbule

Day 04: Bulbule to Jagat (1432m) 7 hours

Day 05: Jagat to Dharapani (1933m) - 7 hours.

Day 06: Dharapani - Chame (2713m) - 6½ hours.

Day 07: Chame - Pisang (3292m)- 5 hours.

Day 08: Pisang – Ngawal (3305m.) - 6 hours.

Day 09: Rest in Ngawal for acclimatization & explore around local site for the day.

Day 10: Ngawal - Chulu Base Camp (3910m.) & stay overnight.

Day 11: Base Camp - High Camp (4955m.) & plan the climbing route and try to set up High Camp during the day.

Day 12: If well acclimatized, you could attempt the summit and if not, rest at the High Camp for the next day too.

Day 13: If weather permitting, we make the summit ascent today and return to Base Camp.

Day 14: Base camp - Manang (3351m.) 6 hours.

Day 15: Manang – Lather (4000m) – 5 hours.

Day 16: Lather - Thorongphedi (4510m) - 4 hours, spend whole day for the rest.

Day 17: Thorong Phedi - Thorong-La pass (5,416m) - Muktinath (3800m) - 9 hours.

Day 18: Muktinath - Kagbeni (2800m) - Jomsom (2726m) - 5 hours.

Day 19: Jomsom - Marpha (2667m) - 2 hours & rest.

Day 20: Marpha - Kalopani, Lete (2438m) - 6½ hours.

Day 21: Kalopani - Tatopani (1189m) - 6½ hours, visit hot spring.

Day 22: Tatopani - Ghorepani (2855m) - 8 hours

Day 23: Early in the morning ascend Poonhill (3200m) for the beautiful sunrise and spectacular views of Annapurna, Dhaulagiri and Machhapuchhre ranges. After breakfast decent to Trikhedhunga (1577m) - 6 hours.

Day 24: Trikhedhunga – Nayapul and drive back to Pokhara for an hour and stay overnight in Pokhara.

Day 25: Drive east to Kathmandu (200km/8 hrs) by bus or fly to Ktm. -35 minutes.

Day 26: Sightseeing in ancient and historical city of Bhaktapur.

Day 27: Free days (Shopping), Cultural program show

Day 28: Drive east to Kathmandu (200km/7 hrs) by bus or fly to Ktm. - 35 minutes.

Day 29: Depart. From hotel and transfer to Airport.

Note: Itinerary Can be Customize as your Requirement. If this above itinerary is not suffice or have any questions, you can ask one of our expert team member for help.