Tibet Highlight Tour Package ( Lhasa, Namtso Lake and Around)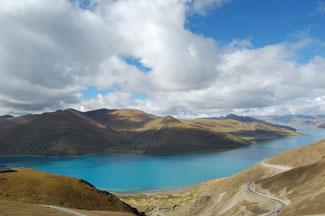 This Tibet Highlight short tour to Tibet includes two day Lhasa city sightseeing and one day excursion to holy lake - Namtso. Lhasa, the unofficial capital city of Tibet from 14th Dalai Lama, its golden sunshine and blue sky is the dream of many travelers all over the world; it is also the pilgrimage destination of all Tibetans and other Buddhists, pilgrims are busy with their full-body-prostration circulation around the Jokhang temple and Bakhor Street. The monasteries Drepung and Sera are two of the three biggest Gelupa monasteries in Lhasa area, which are also worth visiting. Namtso is located in the West North-Tibet Grasslands, which is regarded as one of three holy lakes in Tibet. With bright torquoise water surrounded by snow capped mountains in this Vast Grasslands, Namtso Lake is really a must-see at your Tibet journey. Since Namtso Lake is about 250KM away from Lhasa, it is better to prepare a two day trip with overnight at local tent guest house.
Trip Itinerary
Day 1 Arrival Lhasa Apriort transfair Lhasa Hotel

Day 2 Explore guided tours in Lhasa City including Potala Palace and Tibetan Monasteries, Jokhang Gompa. Hotel.

Day 3 Lhasa Sightseeing Tour including Narbulinka Monastery, Drepung & Shera Monastery back hotel Lhasa.

Day 4 Drive to Namtso Lake explore around lake and hotel near by namtso lake.

Day 5 Drive to Lhasa airport before departure sightseeing on the way fly to onward destination.