Mount Kailash Tour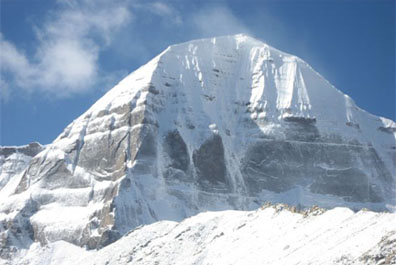 Mt. Kailash Himalaya (6714 m.), Asia's most sacred Holy Mountain, very popular among pilgrimage for both Buddhists and Hindus, It located in a high and isolated enclave of West Tibet. Kailash and Manasarovar are one of the 3 pilgrimage sites in the area, known collectively as Kangri Tsosum; the other two are Ponri Ngaden and Lake Manasarover. All are said to be at the heart of the ancient Shangshung kingdom, the supposed land of origin of pre-Buddhist sect Bonpos. Mt. Kailash is their soul mountain (lari), which they also call Yungdrung Gu Tse (the Nine story Swastika Mountain). This is the very place where it is stated that the sects legendary founder, Tonpa Shenrab, descended from heaven to earth. Lord Shiva both the creator and destroyer of life is believed by Hindus to reside in the holy mountain. A Eco trip to Mt. Kailash in Tibet by Nepal Nepal Footprint Holiday with all of necessary desiger to you can be sample.
Trip Itinerary
Day 01: Katmandu (1300 mts.) Arrival, Our representive will meet at the airport and escort to the Hotel, Free at own and Evening dinner, overnight stay at Katmandu.

Day 02: Katmandu - After breakfast start to Katmandu sightseeing including Pashupatinath and Budha Nikanth Darshan, back to hotel and rest of the day is free for packing and program briefing.

Day 03: Katmandu to Nyalam (3700 mts. - 160kms.) - This is the first day of the Yatra. After breakfast depart from Katmandu to China border by reserved tourist coach. It takes about 05 hours. Our agent will complete custom formalities and check into Tibet - an autonomous part of China. After lunch drive to a small Tibetan town called Nyalam by Land Cruiser. Overnight stay at Nyalam Guest House. Breakfast and dinner in camp side and packed lunch will be provided.

Day 04: Nyalam Full day acclimatization - Full day free for excursion of Nyalam city.

Day 05: Nyalam to Saga / Dongba (4500mts. - 375kms) - After breakfast drive from Nylam to Dongba for about 08:00 hours. Overnight stay at Dongba in tent or guesthouse.

Day 06: Saga / Dongba (4500mts. - 335kms) to Paryang / Chui Gompa - After breakfast drive from Dongba to Chui Gompafor about 07:00 hours. Overnight stay in tent or guesthouse.

Day 07: Stay at Mansarovar (4510mts.) - free for pooja and hawan, This is the first day stay at the bank of the Manasarovar Lake. Overnight stay in tent or guesthouse.

Day 08: Mansarovar to Darchen (4600mts. - 110kms.) - Mansarovar Parikrama by Land Cruiser. We will choose the special point to take dip in Manasarovar Lake and do Pooja of Lord Shiva. Full day free for spiritual activities. Drive around 2.30 hrs to Darchen and overnight stay there. Astapad excursion can be done at extra cost.

Day 09: Darchen to Diraphuk (4890mts. - 12kms.) - This is the first day of Kailash Parikrama. We should start our journey after breakfast as early as possible. This day we have to walk continuously for about 6 to 7 hours. Yak will carry all our goods and equipment. Overnight stay at Diraphuk in tent.

Day 10: Diraphuk to Zhulthulphuk (4790mts. - 22kms.) - This day is very sensitive and we have to pass Dolma-La Pass, which is 5400 mt. above sea level. The weather in unpredictable in Doma-la Pass and at any time snowstorm can fall. So we try to start our journey  as early as possible. In route we can have Darshan of Gaurikund but it is very difficult to go and touch. Overnight stay in route to Zhulthulphuk in tent.

Day 11: Zhulthulphuk to Old Dongba - We will Trek down to Darchen later our tour starts back for Kathmandu following the same route and same system applies for all subjects of our accommodation and meal. Than continue drive back to Old dongba. Overnight in guest house.

Day 12: Old Dongba to Nylam or Zhangmu Khasa - Drive Back to Khasa in same route and Overnight Guest House.

Day 13: Khasa to Katmandu - After custom formalities we will be picked up by Nepal side and continue drive to Kathmandu for about 05.00 hours and check into same hotel. sn mountain flight, Manakamana road trip, or Muktinath tour

Note: Itinerary Can be Customize as your Requirement. If this above itinerary is not suffice or have any questions, you can ask one of our expert team member for help.

Booking Policy:
Application should be submitted at least 30 days before the provisional date of departure.
Passport scan copy or passport copy by courier should summit when the booking is made
Upon the confirmation 100% deposit is required before 15 days of the commencement of the tour along with passport.
All the clients need to carry ID Proof, (Voter ID Proof) OR passport original while traveling by air.
The itinerary can be changed without notice due to unavoidable circumstance beyond our control such as political unrest, Natural calamities, changes in itinerary by the Chinese authorities etc.

Cancellation Policy:
Inr.15,000/- non-refundable, the booking is done.
50% cancellation charges of the rate package cost incase cancellation is received between 7 – 15 days of departure.
No refund incase cancellation is done 7 days prior to departure.
No refund or adjustment will be made in the event of interruption of journey by a client on his own after commencement of the tour.
Any changes in given itinerary requested by the client will be on chargeable basis.
Extra accommodation in Kathmandu due to early arrival from Kailash, rescue charges are bill direct to Yatris.


RECOMMENDATIONS for YatraDOCUMENTS:
You are advised to own a small waist pouch or document bag to manage the following documents properly;
Passport with Photostat copies Photographs, Identity card, Diary for addresses, contacts, small notes etc.
Ball pens with spare refills Maps/Charts/Books etc.
Travel Cheques, credit cards & Currency.
Airline/Railway tickets/vouchers.
Any other document for personal purposes.

FITNESS
Kindly consult your doctor and get yourself examined for this yatra
As Mount Kailash and lake Manasarovar is situated at high altitudes please start exercises like walking, jogging, yoga and other breathing exercises in order to have a successful yatra

INSURANCE
Kindly get yourself a medical insurance for this yatra. Please make sure you cover yourself for emergency evacuation (helicopter) in the insurance.
COMMON ITEMS
A small light trek bag
Water bottle / Thermos flask for hot water (1 liter).

CLOTHING
Enough clothing for the whole Yatra including 3 pairs trek suits/leisure wear/jogging troushers/4 to 5tea shirts/2 polar flees one light quilted /shirts/poloneck/salwar kameez etc. Do not over load.
Wool socks (around 4 pairs), thick tights, wool monkey cap, scarves, warm light gloves, scarf.
Wool/thermal long underwear
Rain wear (Umbrella or Raincoat)

FOOTWEAR
Sports comfortable shoes/trainers (Good one Nike, Adidas etc). Have a spare one too
A pair of light Sleepers

TOILETERIES
Toileteries kit (soap, shampoo, toothbrush, toilet rolls, towels etc).
Sun screen lotion/cream
facial tissues, wet once,

CAMPING ITEM
Tourch/Candle/match box/lighter/batteries
Knife
Plastic mug
Dusk masks/face masks

PERSONAL & GENERAL ITEMS TO MAKE YOUR JOURNEY ENJOYABLE
Any regular medicines that you take
Dark Sunglasses
Your favourite food which will keep you going including Nuts, biscuits, powder juice
Kapoor/Vicks/Inhaler etc
Binoculars/Camera/extra batteries
Milk powder for tea

FIRST AID KIT – ALSO INCLUDE
First aid kit (typical backpacking kit for minor injuries/ our guide also will carry).
Diamox/Aspirin/pain killers
Lip balm/Mustard oil/Vaseline
Plasters
TCP, salt, mint, Vicks for sore throats
Note: Down Jackets and Sleeping bags will be provided on returnable basis at Kathmandu for the Yatra.
HEALTH PRE-CAUTION
Oxygen is less at higher altitudes. The inclement weather and high altitude induces certain illness generally not encountered over the plains. Headache, nausea, lassitude, lethargy, breathlessness, general uneasiness [malaise], high irritability, light loss of balance, disorientation, incoherence and insomnia are a few. It is common to all irrespective of the age, sex and physical fitness. Gradual acclimatization is the best answer. Tranquilizers, sleeping dose and strong anti-biotic must be avoided. Some of symptoms indicate that the body mechanism is readjusting to new environments. The best idea is deliberately slow down all the activities and follows the following rules:
Rest.
Relax-do not exert, be excited.
Reduce talking.
Walk slowly – adopt one third of your speed and space.
Keep your load light.
Walk for 15 minutes and rest for 5 minutes.
Whenever you feel uncomfortable, just stop; rest and relax.
Ignore the sudden outbursts of fellow pilgrims and avoid arguments.
Observe silence with smile.
Never go too high and too fast.
Consume plenty of liquids; never proceed with an empty stomach.
Chant a prayer or visualize everything around to suit your pleasant thoughts or put on the earphones and listen to your favourite music, bhajans, chanting etc.
Be careful not to catch a cold. It is better to be over clothed than under protected. En-route avoids taking bath or drinking water from Lake Streams or rivers, as your system is not conditioned for this.
Keep your boots/Ked inside tent. Protect yourself against dust and direct sunshine during the long stretches of driving. Face, feet and hands must be well protected.
The uneven ground, steep slope and slushy banks are full of potholes. Do not combine walking and sight seeing together.
Always listen to your guide or the one with experience. Never leave the group.
On this trip, over exertion is to be avoided and drinking plenty of fluids is recommendable. During winter, heavy warm clothing is a must.