Everest Base Camp Tour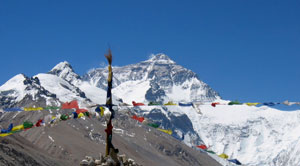 Everest Base Camp Tour to Tibet with a spectacular flight over the snow capped Himalayan mountains Mt. Kanchenjunga (8586m/ 28,169ft), Mt. Everest (8848m/ 29.028ft), Mt. Makalu (8463m/ 27,766ft) and others. You visit the Potala the monumental palace of Kings and Dalai Lamas, with its numerous chapels. The view of the holy city from the roofs is unforgettable. Everest Base Camp Tour from Tibet Excursion to the Sera and Drepung monasteries which were amidst the largest monastic institutions in the world. The Chorten tombs of three Dalai Lamas are sited at Drepung. Sera is one of the best-preserved monasteries in Tibet. Drive past the beautiful Turquoise lake on the way to the historic town of Gyantse with its unique multi-storied Kumbum Stupa. At Shigatse walk through the massive Tashilungpo monastery and visit the memorial 'Chorten' of the late Panchen Lama. At the high plains of Old Tingri meet up with the trek crew and start trekking to North Everest Base Camp. The trek will take you up the historic expedition route from Old Tingri to Rongbuk Monastery crossing the Langma La pass (16,900 ft). Later hike up to the North Everest Base Camp and explore the Rongbuk glacier set directly below the massive north-face of Mount Everest. After gazing at the world's highest mountain scenery from Rongbuk drive by way of the amazing.Mt. Everest, called Mount Qumulangma in Tibetan Language, is the highest peak of the Earth and probably the most coveted mountain in adventurous travelers' eyes. Journey to Mt. Everest Base Camp is a both physical as well as psychological challenge to you, but it will definitely reward you with the most unparalleled views – a panorama of Himalayan peaks - and never-forgotten beautiful memories. With our experienced local Tibetan tour guide, you will be well taken care and have a better insight into the Himalayan environment and local culture, delight yourself with more spectacular mountain views, lush forested valleys, and opportunities to learn about the Tibetan religion.Tour to Mt. Everest region from Tibet side, you can choose either stop at Rongbuk Monastery or at Mt. Everest Base Camp, if not for mountaineers. Rongbuk Monastery is a good place for overlooking Mt. Everest. It's only 25 kilometers straightaway from the Everest Peak. Rongbuk Monastery is the highest monastery on the earth, with an altitude of 5,100 meters (16728 feet). The monastery was built in 1899, as a Nyingmapa monastery since it was said that once Padmasambhava, founder of Nyingmapa, preceded his religious cultivation here. It is one of the very few monasteries that houses Lamas and nuns in the same monastery.
Trip Itinerary
Day 01: Arrival in Kathmandu airport and transfer to hotel

Day 02: Fly from Kathmandu to Lhasa Tour (3650m)

Day 03: Guided sightseeing in Lhasa

Day 04: drive to Gyantse (3950m)

Day 05: sightseeing & drive to Shigatse (3900m)

Day 06: sightseeing & drive to Xegar (4050m)

Day 07: drive to Rongbuk Monastery (5000m)

Day 08: explore Everest base camp & drive to Tingri (4390m)

Day 09: drive to Zhangmu (2300m)

Day 10: drive to Kathmandu (1400m)

Day 11: free day in Kathmandu

Day 12: Transfer to airport for your flight to Kathmandu or other onward destination.

Note: Itinerary Can be Customize as your Requirement. If this above itinerary is not suffice or have any questions, you can ask one of our expert team member for help.