Kathmandu Lhasa Overland Adventure Tour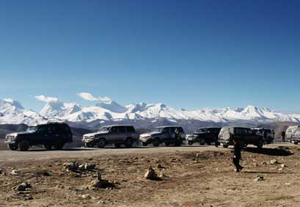 The wonderful tour via Kodari - Nylam- to Lhasa overland tours combines with cultural and Buddhism sights in Lhasa city, Shigatse and Gyantse in central Tibet. Further more you will not only visit monasteries, but also explore many natural highlights such as Lake Nam-Tso and Yamdrok-Tso, Vast northern plains of the Changtang, landscapes, River Brahmaputra (Yarlung Tsangpo River, mother river of Tibet), Geothermal and hot spring. You will have a closer look at local people, experience their culture, nature and enjoy their traditional ways of life. If you are interested to visit Bon-Monastery, this tour can be further customized. Your driver and guide will take you further to visit Yundrungling Monastery which is around 3 km to Tadruka (China-Nepal highway, northern route). world. It is the Tailor made Adventure Customize Overland Holidays to Tibet Lhasa and Around by Tibetan Guide Service include B/B Plan Hotel
Trip Itinerary
Day 01: Kathmandu to Nyalam - [3,750m/12,300ft]-162Kms.
Early morning drive (Approx. 5 hours) from Kathmandu to Kodari (1,873m/6,140ft). After completing immigration and custom formalities drive up hill to Zhangmu (2,300m/75,44ft). This is Tibetan border town. The Tibetan Guide will meet the Group on arrival at the check post and we drive further road climbs and climbs to Nyalam for overnight. On the way you will see fantastic view of deep valley with some overflowing waterfalls.

Day 02: Nyalam to Lhatse - [4,350m/14,270ft]-220Kms.
Drive (Approx. 6 hours) to Xegar crossing two spectacular passes. Nyalam pass (3,800m/12,464ft) and Lalung La pass (5,082m/16,670ft). This drive offers fantastic view of the high mountains including, Mount Everest (8,848m/29,021ft) Jugal Himal, Mt. Makalu (8464m) etc. Overnight in Lhatse

Day 03: Lhatse to Shigatse - [3,900m/12,790ft]-244Kms.
Drive (Approx. 6 hrs) to reach Shigatse, the place of famous Tashilunpo Monastery and seat of Panchen Lama until his death in 1989 with its huge Thangka wall which is clearly visible from the north side of the road . Overnight in Shigatse.

Day 04: Shigatse to Gyantse - [3,950m/12,955]-90kms.
In the morning visit the Tashilunpo Monastery and the free bazaar of Xigaste. After lunch embark on a pleasant 2 hours drive to Gyantse. Here you visit the Khumbum Stupa and Phalkot Monastery. Overnight in Gyantse.

Day 05: Gyantse to Lhasa - [3,650m/11,970]-259kms.
The drive to Lhasa takes 7 hours, crossing 2 passes The Karo La (5010m) and Kamba La (4794m) pass and Lake Yamdrok Tso (Turquoise Lake). You will cross the Yarlung Tsangpo (Brahamaputra) river and see the distant views of the Potala Palace. Overnight in Lhasa

Day 6: Lhasa Sightseeing Tour
Foremost, our tour begins with a visit to Sera Monastery. An experienced tour guide also working as an interpreter escorts we to this preserved monastery of white-washed walls and golden roofs. Equally adventurous and exciting tempo builds up while touring Norbulingka, the summer palace of the Dalai Lama. Jokhang Temple is another important sacred site which unravels more deep seated mysteries of Tibetan Buddhism. Visit to Barkhor Market can be quite a change from other visits as we roam around the city savoring every tiny detail from stall hawkers coaxing their clients to purchase their goods to exhibition of Tibetan culture, custom and tradition. Eventually, the tour for the day concludes as you return to the comforts of your hotel.

Day 07: Lhasa Sightseeing Tour
Like the previous day, you experience invaluable insights during your visits to Potala Palace and Drepung Monastery. This 17th century Potala Palace offers an awesome view of entire city and also has private quarters of the Dalai Lama, numerous grand state rooms and chapels. Ancient history has it that Drepung Monastery which was built in 14th century used to shelter around 10,000 monks but as now there has been quite a declination resulting in only few hundreds. Tibetans' respect and belief are immensely knotted with this monastery.

Day 08: Final departure from Lhasa or extend your tour
From today you are free; so make your own itinerary or contact us to extend your trip. You are responsible for making all the necessary arrangements and return journey to Nepal or towards to mainland China. However, if you would like to fly out from Lhasa to Kathmandu or any other city of mainland China, we can manage the air or Train ticket in advance.