Shisapangma Expedition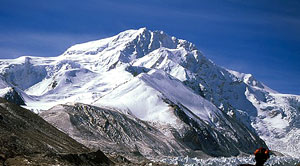 Shishapanga ExpeditionShishapangma, "the range above the grassy plain" is located in central Himalaya and lies totally within Tibet. To the east lies Mount Molamenchen to the west Mount Xifeng and Mount Nandengri and to the northwest Mount Khambachen. Sishapangma, was first climbed by the Chinese in 1964. There are three distinct climbing routes on the Southwest face with several other logical possibilities on the West Ridge and East face. Our route picks up from Nyalam, 33km from the Nepal / Tibet border, up to the Chinese base camp at an altitude of about 5000-5400m. The trek to BC takes about three to five days via the Nyanang Phu Chu valley. Cho Oyu is the sixth highest mountain in the world and, even though it is regarded as a technically straight forward 8000m peak, its altitude is a serious undertaking and requires careful preparation and a high level of fitness. It is said that Cho Oyu means 'Goddess of Turquoise', as its stark shadows appear this colour in the light of the setting sun when viewed fromTibet. This mountain is a vast bulk of sweeping snow slopes and clean glaciated lines; a most noble and impressive first 8000m peak. The elegant North West face of Cho Oyu brings us up fairly easy angled 30 degree snow slopes. There is one steep serac barrier to negotiate at 6800m. Where necessary, fixed lines will be placed to aid us on steeper sections. Following our acclimatisation walks in Nylam and Tingri, we will arrive at the Chinese Base Camp where we begin our exciting preparations to move up to Base Camp at 5700m via an Intermediate Camp at around 5400m, to aid acclimatisation.
Trip Itinerary
Day 01: Arrival to Kathmandu airport and transfer to hotel

Day 02: Kathmandu. Briefing, visa procedures and shopping.

Day 03: Kathmandu. Last minute preparation

Day 04: Drive to Zangmu (2300m) / Naylan (3750 m ). Overnight in hotel.

Day 05: Nyalam, acclimatization day.

Day 06: Drive to Shisha Pangma Base Camp (4700m).

Day 07: Stay at Base Camp.

Day 08: Prepare loads for advance base camp.

Day 09: Trek to Advanced Base Camp (5600m).

Day 10: Preparation for climbing period.

Day 11-33: Climbing period.

Day 34: Reserve day.

Day 35: Trek back to Base Camp

Day 36: Drive to Nyalam. Overnight in gust house.

Day 37: Drive to Kathmandu. Transfer to your hotel.

Day 38: Free day in Kathmandu.

DAY 39: Rest day in Kathmandu

Day 40: Transfer to international airport

Note: Itinerary Can be Customize as your Requirement. If this above itinerary is not suffice or have any questions, you can ask one of our expert team member for help.