Pumori Expedition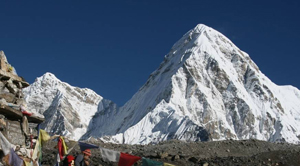 Pumori Mounain is the most popular mountain for those who whish to climb 7000m peaks in the Himalayas of Nepal. We arrange both the logistic support and guided climbing for Pumori expedition. Climbing Pumori requires a moderate technical climb on ice and snow. The normal route for the climbing is South East Ridge . For Pumori expedition the Base camp will be set up at 5300m. We climb through the glaciers for approx. 4 hours and reach Camp 1 at 5700m. From Camp 1, we climb 480m. on the face with 40-60 degrees slope and pass through a snow wall to reach camp 2 at 6200m. on a narrow ridge. From camp 2, we climb approx. 450m. through ice with 30-60 degrees slopes passing through ice walls and crevasses.

This section is prone to avalanches from big seracs hanging on the shoulder above. Camp 3 will be set up at an altitude of 6480m. on the ridge . Passing through crevasses, we climb up to Pumori cliff and then to the summit. For many mountaineers Pumori is the peak to check their technical skills and their feelings of climbing Himalayas in Nepal to prepare for 8000 meter peaks in Nepal for the future climbing. Climb Mt Pumori in Nepal which is a serious expedition peak designed only for experienced climbers. This stunning peak lies in the Khumbu region on the border of Nepal and Tibet. Mt Pumori is one of the premier 7000m peaks. The route follows the South East buttress before it traverses the East Ridge for the remainder of the ascent. It requires excellent physical endurance, Mt Pumori offers sections of wild exposure and stunning views of Mt Lhotse and Mt Everest. First ascent in 1964 by a German Swiss expedition.
Trip Itinerary
Day 01: Arrival to Kathmandu airport and transfer to hotel

Day 02: Kathmandu- Prepare Expedition

Day 03: Briefing expedition in Ministry of tourism

Day 04: Flight to Lukla & trek to Phakding

Day 05: Phakding to Namche

Day 06: Namche rest for acclimatization

Day 07: Namche - Thyanboche

Day 08: Thyangboche - Pheriche

Day 09: Pheriche - Lobuche lodge

Day 10: Lobuche - Pumori Base Camp -

Day 11-29 Climbing Period for Pumori 7145m.

Day 30: Pumori BC - Pangboche

Day 31: Pangboche - Namche

Day 32: Namche - Lukla

DAY 33: Flight Lukla to Kathmandu

DAY 34: Rest day in Kathmandu

Day 35: Transfer to international airport

Note: Itinerary Can be Customize as your Requirement. If this above itinerary is not suffice or have any questions, you can ask one of our expert team member for help.