Baruntse Expedition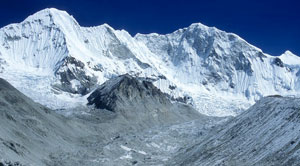 Baruntse is at the height of 7129m. in between on the lap of Everest and Makalu mountain. This mountain was first ascended first by Colin Todd and Geoff Harrow on 30 May 1954. They have climbed the mountain by the South -East Ridge. Since than many climbers have used this route and got succeeded. This mountain has also been becoming coveted day by day like the other Pumori, Ama Dablam as well as Everest too. The south -East Ridge of Baruntse it is little bit difficult because of being straightforward hard ways to climb. There are hard sections of 50 Degree's elevation with a prominent ice cliff to be climbed facing the risk of avalanche. The climbers have succeeded the mountain mostly in the spring season because of being the season the best to the climber safety.

But also some climbers have reached on it's top in the autumn season as well. Baruntse is one of the beautiful 7,000m snow peaks in the Himalayas of Nepal. Baruntse, a substantial and symmetrical snow peak , lies in the heart of Khumbu massif surrounded by some of the famous peaks of the world, Mt. Everest, Lhotse, Makalu, Chamlang, Amadablam and Mera trekking peak. The peak is crowned by four summits on four ridges. It is also one of the few peaks of this height with a high rate of success of ascent on normal route via South Ridge. The approach to the mountain follows the Mera Peak trek up to Mera La and then to Baruntse base camp (5,250m). The route is not technically demanding and essentially a straightforward climbing on snow and ice with some sections of overhangings. Normally, two high camps are established above the base camp in Baruntse climbing. The camp I is set up just below East Col. at an altitude of 5,700m and the camp II is on the South – East Ridge at a height of 6,420m.
Trip Itinerary
Day 01: Arrival to Kathmandu airport and transfer to hotel

Day 02: Briefing and shopping.

Day 03: Last minute preparation

Day 04: Fly to Lukla - Chutanga - Camp

Day 05: Chutanga - Nau Lekha- Camp

Day 06: Nau Lekha - Kothey -Camp

Day 07: Kothey - Thangnak - Camp

Day 08: Thangnak - Khare - Camp

Day 09: Kare - Mera BC - Camp

Day 10: Mera BC - Seto Pokhari Camp

Day 11: Seto Pokhari - Baruntse BC- Camp

Day 12: Climbing period of Mt. Baruntse 7129m. [ Climbing Route ]

Day 13 - 25: Climbing period of Mt. Baruntse 7129m. [ Climbing Route ]

Day 26: Baruntse BC - Setopokhari Camp.

Day 27: Setopokhari - Mera BC - Camp

Day 28: Mera BC to Khare - Camp

Day 29: Khare to Thagnag - Camp

Day 30: Thagnag to Kothey - Camp

Day 31: Kothey to Chutanga - Camp

Day 32: Chutanga to Lukla - Camp

Day 33: Lukla - Kathmandu fly

Day 34: Free day in Kathmandu.

Day 35: Transfer to international airport

Note: Itinerary Can be Customize as your Requirement. If this above itinerary is not suffice or have any questions, you can ask one of our expert team member for help.