Cho Oyu Expedition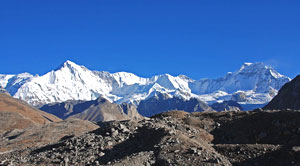 Mt. Tso Oyu mountain standing in Khumbu himalayan range between Tibet and Nepal border. A one of the 8210 meter tolest mountain which has quite easy esses to climb. Becaus of its northen sloves from Tibet and driving assess to base camp.Tso Oyu is ten sixth highest mountain peak in the world and a part of great himalayan section.The mountain first summited in 1954 by Austrilan and Tibetan expedition team. The tibetan folktale of Cho Oyu meanTurquoise Gold. Is that he fell in love with the goddess Qmolungma, The Mt. Everest. Who later married her closer neighbor to the southeast, Makalu. Cho Oyu never married and he now faces the opposite way of Chomolungma.The Expedition begin form Kathmandu by all of preperation of Nepal Footprint Holiday experience sherpas and team.
Trip Itinerary
Day 01: Arrival to Kathmandu airport and transfer to hotel

Day 02: Kathmandu. Briefing and shopping.

Day 03: Kathmandu. Last minute preparation

Day 04: Fly to Lhasa (3600m). Overnight in hotel.

Day 05: Lhasa, visit Drepung and Sera monasteries. Overnight in hotel

Day 06: Lhasa, Potala, Jokhang and Barkhor. Overnight in hotel.

Day 07: Drive to Xigatse. Overnight in hotel.

Day 08: Drive to Xegar. Overnight in hotel.

Day 09: Drive to Cho Oyu base camp.(4700m)

Day 10: Base Camp, rest day.

Day 11: Trek to interim camp.

Day 12: Advanced Base Camp.(5200m).

Day 13-38: Climbing Period Mt.Cho Oyu.

Day 39: Rest day.

Day 40: Return to Base Camp.

Day 41: Drive to Nyalam. Overnight in Guest House.

Day 42: Drive to Kathmandu. Transfer to your hotel.

Day 43: Free day in Kathmandu.

Day 44: Transfer to international airport

Note: Itinerary Can be Customize as your Requirement. If this above itinerary is not suffice or have any questions, you can ask one of our expert team member for help.