Dhaulagiri Expedition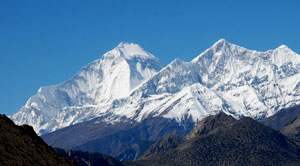 Mt. Dhaulagiri Expedition Dhaulagiri: The seventh highest mountain in the world and the highest mountain located entirely within Nepal. This is in the north central Nepal. Dhaulagiri's crest stretches for thirty miles, lending structure to an otherwise tangled topography of twisting ridges, glaciers, and ice falls. Along the main crest, several pyramid-shaped peaks rise. Four of these summits, numbered from east to west, rise above 25,000 feet. Mount Dhaulagiri (8167m.) was first climbed by the Swiss in 1960.

Its name is derived from Sanskrit " Dhavala means" means "White" and girl is "Mountain" The mountain was sighted by British surveyors in India in the early 1800s and was mapped by one of the secret Indian surveyors, the pundits, in 1873; but the region remained largely unknown until a Swiss aerial survey in 1949. The French mount Annapurna expedition in 1950 had permission to climb either Annapurna or Dhaulagiri but decided on Annapurna after a reconnaissance of Dhaulagiri. A Swiss party failed in 1953 as did an Argentine group one year later. After four more expeditions had failed, eight members of a Swiss expedition reached the summit in 1960. The climb followed a circuitous route around the mountain from Tukuche, over Dhampus pass.As French Col, to approach the summit from the North-East Col., The expedition was supplied by a Swiss Pilatus Porter aircraft, the "Yeti" which landed on the North-East Col at 5977m. Near the end of the expedition the plane crashed near Dhampus pass and the pilots, including the famous Emil Wick, walked down the mountain to Tukuche. Tragedy struck in 1969 when an avalanche killed seven members of a US expedition on the East Dhaulagiri Glacier. The peak was climbed by the Japanese in 1970s, the Americans in 1973 and the Italians in 1976.
Trip Itinerary
Day 01: Arrival to Kathmandu airport and transfer to hotel

Day 02:  Kathmandu Briefing, and shopping. 

Day 03:  Kathmandu - Final preparation

Day 04:  Tatopani 1189m. Overnight in Camp. 
 
Day 05:  Marpha (2667m). 

Day 06:  Yak Kharka 

Day 07:  French Col 

Day 08:  Dhaulagiri Base Camp 

Day 09-45: Climbing PeriodMt.Dhaulagiri

Day 46:  Clean up Base Camp 

Day 47:  Dhampus Col 

Day 48:  Trek to Marpha then drive to Jomsom. Lodge.. 

Day 49:  Fly Jomsom / Pokhara / Kathmandu. Transfer to hotel. 

Day 50:  Free day at Kathmandu. 

Day 51: Transfer to international airport

Note: Itinerary Can be Customize as your Requirement. If this above itinerary is not suffice or have any questions, you can ask one of our expert team member for help.