Village Tourism in Nepal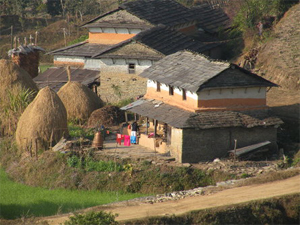 Nepal Village Tour is the best way to explore villages of Nepal walking through the villages surrounding of Nepal, interaction with the warm and hospitable local people, buying their authentic handicraft products and observing their traditional rituals will bring one closer to understanding the diversity of cultures in Nepal. Tour in villages also gives opportunity to observe landscapes and vegetation found in the outskirts of the settlements. The people in these traditional villages offer a peep at their agro-based rural lifestyle, colorful costume, festivals which they celebrate with much joy and enthusiasm, and gracious hospitality.

Home stay during the walk is the most exciting of all; it gives the opportunity to observe the interior decoration and gives the chance to learn the living style of the villagers of Nepal. It also helps to interact and know the people of its best. We offer you Sirubari Village Tour, Balthali Village Tour, Tamang Heritage Trail, Langtang Tour, Dolpa village Tourism, Phoksundo Tourism and Dolpa circuit tour.

Note: Since this route and concept is new so, it is not that popular but it has the potential to be the best routes of Nepa

The Sirubari village is a totally unspoiled Gurung settlement set in the hiss at 1700 meters above sea level. The climate is ideal at any season of the year. During the September to June season with warm days and nights. Sirubari village is a short drive and walk from Pokhara, the major tourist center for the Annapurna. The trail to the village is steep but well made and most people manage to reach the village after a three-hour walk. We will be welcomed into the community and invited to stay in the home of one of the villages.

The accommodation is simple but comfortable with good bedding as well as clean toilet facilities. The food is delicious and you will be eating your meals as one of the family. Each night there will be entertainment provided by the community, one evening this will be in the form of traditional Gurung and Nepali dancing and singing. You can join in if you want. The living culture and tradition of Gurungs blended with their rich hospitality make for an unforgettable experience for any one who visits Sirubari.

The villagers love, for flowers is shown in an all year around riot of colors. Being oh the southern slopes of the ridge the village enjoying long sunny day and is ideal for agriculture. In may 2001. Sirubari in conjunction wit the Nepal truism board was awarded the PATA Gold award in recognitions of its efforts to preserver the culture and heritage of Nepali life
Sirubari Village Tour Itinerary
Day 1: Meet at Kathmandu International Airport and transfer to Hotel.

Day 2: Sight-seeing of Kathmandu: Full day's sightseeing in Kathmandu valley includes the Hindu temple complex at Pashupatinath (a UNESCO World Heritage Site) & the biggest Buddhist Stupa at Boudhanath. Also visit Monkey Temple the Swyambhunath (2000 years old temple) and visit Patan city of fine arts. Return to the hotel.

Day 3: Kathmandu to Pokhara: 6 hour drive by tourist bus or 30 minutes flight takes you Pokhara.

Day 4: Pokhara to Arjunchaupari. After drive to Arjunchaupati Trek to Sirubari village. Meet the family. Watch local cultural programs. Overnight in the local House.

Day 5: Explore the village and its surroundings. Hike through the neighboring villages. Enjoy the cultural programs and observe their daily lifestyle.

Day 6: Climb to Dahare hill for views of the mountains and village scenery. Spend our last evening with the family. Probably one of the best experiences for you.

Day 7: Walk back to the Arjunchaupari. Drive back to Pokhara overnight in Hotel.

Day 8: Pokhara – Sightseeing Day. Early in the morning we can take a taxi to the Sarangkot hill for viewing sunrise and spectacular snowcapped mountain ranges. After lunch back to Pokhara and visit Devis fall, Tibetan refugee camp, Cave and boating in the lake…

Day 9: Pokhara to Kathmandu: Drive back or fly out to Kathmandu. Evening join Cultural show programme with Nepali dinner.

Day 10: Final departure, transfer to airport

Nuwakot Village Tour Package
Day 1 Drive from Kathmandu arrival Nuwakot Hill side local house stay exploring village.
Day 2 Exploring Village by walk into nuwakot village around then stay in Nepalese family house.
Day 3 Visit Local School with children exploring around local house.
Day 4 Back to Kathmandu by overland.

Balthali Village Tour Package
Day 1 Drive to Panauti walk to Balthali Village via Khopasi village a farming land, Stay in Local village/resort.
Day 2 Exploring Local balthali village and around local House/Resort.
Day 3 Walking to Namobuddha Great Buddhist Pilgrimage Monastery back drive to Dhulikhel/Lodge/Resort.
Day 4 Exploring Dhulikhel Villages and sunrise Himalayan view back to Kathmandu.
Ghalegoan Village Tour Package

Day 1 Drive to Bashishar again local drive to Ghanapokhara, Exploring Village local Guest house stay.
Day 2 Walking to Ghalegoan village exploring village and stay local house.
Day 3 Exploring Ghalegoan village himalayan view and evening culture program stay local host.
Day 4 Walk down to Khudi drive to Kathmandu.

Enjoy a Village Tour
Many of these villages are close to unspoiled natural areas where wildlife may be seen undisturbed. The traditional culture of the different ethnic groups is a highlight of all village visits, during the home stay program people can sample the all local organic products and handicrafts. These warm and friendly people are always ready to perform their music and dance to give an insight in to their religion.


Price For The Trip:
The total cost for the trek or tour you decide you want to do will depend on several different factors. The type of accommodation you prefer in Kathmandu and/or Pokhara will make a difference to the overall cost (budget to 5 star accommodation) The mode of transport you prefer will also affect the cost of your package, for example prices vary greatly between flying versus private car/van, tourist or local buses. The number of guides and/or porters required will also affect the total cost of your trek. For these reasons the same trek/tour can vary in price quite substantially.
Please mail us for up to date prices for the above itinerary