Buddhist Tour in Nepal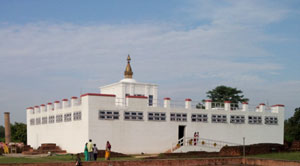 Lumbini is the birth of place of Lord Buddha and has been declared as a World Heritage Site by the UNESCO. It is small town in the southern Terai plains of Nepal, where the ruins of the old city can still be seen. At the age of 84, he left this world with thousands of followers to keep Buddhism alive. Lumbini has since been a holy ground for Buddhists all over the world. The restored garden and surroundings of Lumbini have the remains of many of the ancient stupas and monasteries. A large stone pillar erected by the Indian Emperor Ashoka in 250 BC bears an inscription about the birth of the Buddha. An important part of Lumbini is the temple of Maya Devi. It has stone image of Maya Devi giving birth to Lord Buddha as she holds onto a branch. An important archeological site near Lumbini, Kapilvastu evokes the ancient palace where Lord Buddha spent his formative years. Scattered foundations of the palace are abundant and archeologists have by now discovered 13 successive layers of human habitation dating back to the eighth century BC.Access: Siddhartha Highway connects Lumbini by road to Pokhara, Tansen and Kathmandu. Regular Flights from Kathmandu to Siddharthanagar, which is a 15 - 20 minute drive from Lumbini, connects Lumbini to the capital.
Trip Itinerary
Day 01: Arrival to Kathmandu airport and transfer to hotel evening welcome Diner.

Day 02: After breakfast we visit Swoyambhu nath Bauddhanath Stupa, and Kapan Monastry then Drive back to hotel.

Day 03: Drive to Lumbini or fly to Bhairahawa and drive to lumbini. Overnight stay in the hotel in lumbini. If you fly you can spend little time around the Indian border also.

Day 04: Visit the sacred garden / pond / Mayadevi temple / monasteries and temples built by many countries as China / Thailand / Burma / Srianka / Korea / Germany / France / Japan and many more. Visit peace lamp and other centers as library museum and more. Overnight stay in the hotel in Lumbini.

Day 05: Drive back to Kathmandu or the next destination.

Day 06: Depart to International Airport.

Note: Itinerary Can be Customize as your Requirement. If this above itinerary is not suffice or have any questions, you can ask one of our expert team member for help.