Nagarkot Sunrise Sunset Tour in Nepal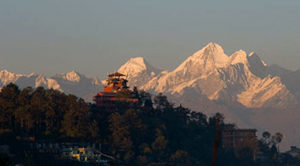 Kathmandu is an exotic valley with rich culture, art and tradition. Kathmandu Valley is surrounded by verdant agricultural hills scattered with traditional villages and brick houses, rich in ancient holy temples and shrines used by both Buddhists and Hindu worshippers reflecting a great wealth of culture and tradition. Kathmandu Valley is not only cultural, political and commercial centre of Nepal but also it is the capital city of Nepal . Main attraction of Kathmandu tours are Hanuman Dhoka, Akash Bhairav Temple, Kumari Temple , Kasthamandap, Singha Durbar, Narayanhity Durbar, Budhanilkantha, Kirtipur, Dakshinkali, National Museum, Natural History Museum etc. are some of the interesting places to visit in and around the Kathmandu.Nagarkot hill station situated 32 kilometers Far East of Kathmandu valley, Nagarkot hill station is one of the most scenic spots in Bhaktapur district and is renowned for its spectacular sunrise view of the Himalayan region. Visitors travel to Nagarkot from Kathmandu to spend the night at Nagarkot hill station for the breathtaking sunrise view in morning. Nagarkot hill station is famous for best spots to view the Himalayan Range. From Nagarkot you can see the enumerable mountains including Mount Everest and other snow-topped peaks of the Himalayan range of eastern Nepal. It also offers an excellent view of the Indrawati river valley to the east. With an elevation of 2,195 meters, Nagarkot also offers a panoramic view of the Valley and is described by visitors as a place whose beauty endures year round. Many visitors prefer to visit Nagarkot in the spring when surrounding valleys break out in a rich kaleidoscope of different colored flowers.
Trip Itinerary
Day 01: Arrival to Kathmandu airport and transfer to hotel evening welcome Diner.

Day 02:After breakfast we visit Kathmandu Durbar Square, Swayambhunath Stupa, Boudhanath Stupa then Drive to Nagarkot in the evening for sunset view.

Day 03: Early Morning enjoy with sunrise view in the Himalayan Range. After breakfast hikedown to telikot then drive back to Bhaktapur. Tour around Bhaktapur Durbar Square and Pashupatinath Temple in the afternoon.

Day 04: After breakfast we visit Patan Durbar Square, explore around Kirtipur then drive back to hotel afternoon free for shoping evening farewell dinner together in typical Nepali restaurant.

Day 05: Depart to International Airport.

Note: Itinerary Can be Customize as your Requirement. If this above itinerary is not suffice or have any questions, you can ask one of our expert team member for help.