Muktinath Darsan Tour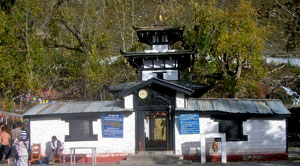 Muktinath Temple, It is believed that one should visit this temple after competing pilgrimage of four special religious sites in Hinddu Religion and Buddhist. Muktinath temple held sacred by Hindus/Buddhist as well as Buddhists. The Jwala Mai temple nearby contains a spring and an eternal flame fed by natural gas underground. Jomsom is a major center in the Annapurna region. Muktinath: Mukti (Salvation) holds a grate significance for all spiritual people in the south Asian sub continent. Muktinath (the provider of salvation) has been one such holy site, where thousands of devotees flock for attaining the much sought after moksha. The famous temple of Lord Muktinath lies in the district of Mustang and is situated about 18 kms northeast of Jomsom in the north central part of Nepal , at an altitude of about 3750 meters. There are two ways to reach Muktinath. Either take a flight from Pokhara to Jomsom or hike for 7-8 hours from Jomsom or trek all the way from Pokhara through Kali-Gandaki valley, which takes 7/8 days. Helicopter services are also available from Pokhara & Kathmandu. Now a days Many Overland Transport from Pokhara or Jomsom to Muktinath. There has a trekking route one of famous treks name of Muktinath. The sight of the bewildering Annapurana and Dhaulagiri ranges will enchant you as you approach towards Pokhara Valley by air or surface. The next morning when you discover the clear sky and views of mountain, you then discover you are on your special journey to the Muktinath.
Trip Itinerary
Day 01: Arrival to Kathmandu airport and transfer to hotel evening welcome Diner.

Day 02: After/before breakfast we visit Pashupatinath then Drive back to hotel then visit swoyambhunath and Kathmandu darbar square.

Day 03: From Kathmandu drive / fly to Pokhara. Overnight in Hotel.

Day 04: Morning fly to Jomsom, walk / horse ride to Muktinath via Kagbeni along the Kaligandaki Valley. Overnight loges/hotel.

Day 05:After holy bath in Kunda,108 Dhara and puja. horse ride / walk back to Jomsom, overnight

Day 06: Morning flight to Pokhara, check- in hotel then Pokhara city sightseeing.

Day 07: Drive back to Kathmandu and transfer to the hotel.

Day 08: Depart to International Airport.

Note: Itinerary Can be Customize as your Requirement. If this above itinerary is not suffice or have any questions, you can ask one of our expert team member for help.