Lhasa Kathmandu Biking Tour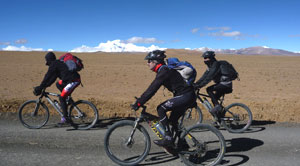 This biking tour from Lhasa to Kathmandu is the ultimate biking expedition across the roof of the world. Right from viewing sunset on Mt. Everest from Rongbuk to exploring colorful Kathmandu; this world's longest bike ride offers it all! This brilliant high level bike ride traverses the road between Lhasa and Kathmandu, including the 4-day round trip, off-road, to the Rongbuk valley beneath the stunning north face of Mt. Everest.

What to expect during the bike ride from Lhasa to Kathmandu?
Flying to Lhasa via a brief stay in Kathmandu, 3 essential nights is spent getting used to the 3660 meters altitude. There is much to see in the days spent in and around the capital of Tibet, including the marvelous Potala palace, Jokhang temple and the colorful Tibetan markets. Our journey from Lhasa to Kathmandu crosses some very remote country and for 80% of the ride is on the Tibetan plateau at an altitude between 4000 and 5229 meters. Throughout the route, we always have the support of a back up vehicle for emergencies. The tour includes an experienced biking guide fluent in English and Tibetan, also an equipment vehicle carrying all our camping and personal equipment, a bike mechanic is always along with us. This trip is difficult; but it makes a great biking adventure and provides a real sustained workout.
Trip Itinerary
Day 01: Arrival in Kathmandu airport and transfer to hotel

Day 02: Flight: Kathmandu - Lhasa. Overnight Hotel.

Day 03: Full day guided sightseeing in Lhasa. Overnight Hotel.

Day 04: Continue the sightseeing in Lhasa. Overnight Hotel.

Day 05: Start the Bike Tour. Camp after 86 kms.

Day 06: Kamba La Pass. Camp after 56 kms.

Day 07: Continue and camp before Karo pass.

Day 08: Karo Pass to Gyangtse. Gyantse 86 kms. Hotel Gyantse.

Day 09: Gyangtse to Shigatse. Shigatse 106 kms. Hotel Shigatse.

Day 10: Continue and camp after 75 kms.

Day 11: Continue and camp after Lhatse 95 kms.

Day 12: Continue. Shegar 80 kms. Hotel.

Day 13: Continue the sightseeing in Lhasa. Overnight Hotel.

Day 14: Continue. Pang La Pass. Camp after 65 kms.

Day 15: Continue. Rongbuk. Camp 35 kms.

Day 16:Go to Everest Base Camp. Camp at Rongbuk.

Day 17: Camp before Tingri. 76 kms.

Day 18: Continue and camp after 75 kms.

Day 19: Lalung-Leh Pass. Hotel Zhangmu 117kms.

Day 20: Continue from Zhangmu and cross the border.

Day 21: Free day in kathmandu

Day 22: Transfer to airport for your flight to Kathmandu or other onward destination.

Note: Itinerary Can be Customize as your Requirement. If this above itinerary is not suffice or have any questions, you can ask one of our expert team member for help.