Jomsom Pokhara Biking Tour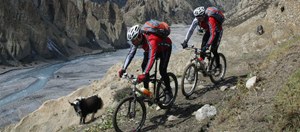 This Jomsom Pokhara mountain bike trip is one of the most amazing riding trips in the rain shadow hidden are of Lower Mustang route in Annapurna Circuit trail Nepal. Jomsom lies north of Pokhara in Mustang Region between Mt. Annapurna and Mt. Dhaulatiri Mountain Valley. A small town along the kaligandaki river is the 'Thakali' homeland. Thakali people are of Tibetan origin but have their own language and customs. We fly to Jomsom from Pokhara and initially we ride through a popular trekking and off road dusty -windy trial which leads us to many different wonderful villages rich in cultural and architectural point of view. The getway of Upper Mustang Kegbeni and famous pilgrimage attraction Muktinath impressed you so much. The rocky wide and small track slowly descends to meet a paved road which takes to the beautiful Pokhara city on the day. In biking route you will enjoy natural hot spring bath and will cross world deepest gorge by your bike, Unlike the rest of the Nepalese Himalayas, the Annapurna mountain range does not form the border between Nepal and Tibet. On the way you will ride your mountain bike along the world deepest gorge and natural hot spring bath are the most highlighted of this mountain bike trip in Nepal.
Trip Itinerary
DAY 1:Arrival in airport and you will welcoming by our representative or guide, then transfer to Kathmandu Hotel, Evening welcome dinner with Nepalii Culture Show.

DAY 2: Day in Kathmandu Check Mountain Bike and Prepare Permit and some warmup ride in north of kathmandu valley in bustiling trail. From here you will get some knowledge of bike riding in Nepal. Hotel

DAY 3: Morning take a tourist bust to Pokhara. We put our bike on bus and drive about 6 to 7 hours to pokhara city along the grand paddy and river valleies. Overnight stay in Pokhara hotel. Evening lake site leisure.

DAY 4: Early Morning, Fly to Jomsom, its only 20 minutes flight between 2 high mountain valley. Great view of Himlayas, fixed our bike and ride to Kagbeni village along the kaligandaki river bank on bustline and windy trail. local lodge.

Day 5: Highest assent high altitude bike riding to Muktinath Temple, mostly uphill on dusty road with the view of himalayan rain schadow dry landscpe and white himalayas, ancient villagesa nd Dzongs.Visit great vishnu temple and buddhist monastery stay at local lodge.

DAY 6: Muktinath to Kalopani via Jomsom, Marpha, Tukuche, Kobang, Larjong and Kokhethanti.
The Thakali have established the tradition of hospitality to passing traders for centuries along Thak Khola stretch of the Kali Gandaki between Jomson and Tatopani. The flagstone-lined village of Marpha is popular for apple farming. Tukuche at 2590m was once a meeting place for traders from Tibet. Mostly ride through wide track.

DAY 7: Kalopani -Tatopani via Ghasa Rupse Chara and Dhana. Thee trial follows the Kali Gandaki valley. The river cuts a channel between the peaks of Annapurna 1 and Dhaulagiri thus, qualifying the kali Gandaki valley for the title of the world's deepest gorge. We ride through Gasa at 2080m and one stage takes a precious route through a very steep and narrow section of the gorge to take the way to Dana at 1400m. This is where the difficult track branches off to Maurice Herzog's base camp, used for his historic ascent of Annapurna in 1950. Push and carry in some sections. Ride mostly on newly made wide grabel track/trekker's track.

DAY 8: Tatopani - Beni- Sarangkot. Tato means 'hot' and Pani means 'water', a name earned courtesy of the hot springs by the river. Tatopani is a popular destination for a shorter trek out of Pokhara. From Tato Pani, we cross the bridge to the eastern side of the kali Gandaki (a major river) and shortly afterwards, the bridge over the Ghara khola (river). Passing the trail up to Ghorepani, continue south along the Kali Gandaki the trial rises and falls through small villages. Under an hour's ride from quieter and far more attractive riverside village, Tiplyang (1040m) the trial takes to the bustling market town, Beni. Buses run along the east bank road to Baglung and on to Pokhara. Ride mostly on newly made wide track/trekker's track . We will follow Kali Gandaki river and reach the Baglung highway which will lead us to Naudanda where we will have lunch. We follow the dirt road to the Sarangkot which is the number one view point in the Pokhara to enjoy the view of Mountains, Himalayas, sun rise, sun set and the Lake .

DAY 9: Sarangkot to Pokhara
Mostly we ride through steep and small road to Pokhara. Make sure to check your brakes before you start, today short and easy down hill to pokhara city. Rest lust and launa in Pokhara Lake side. Hotel.

DAY 10: Drive to Kathmandu
Take early tourist bus to Kathmandu or Fly to kathmandu. We have our break fast and lunch on the highway. Happy hour in kathmandu at evening with farewell dinner.

DAY 11: Free day and Depart to Home
Free time in Kathmandu and Depart to home we Drop to you in Airport.

Note: You need a mountain bike in a good working order with helmet (both available for hire in kathmandu. We have big stock of bikes with front suspension e.g. Trek Series Bikes with genuine parts. Group Size Min 2pax, plus Nepali guide-medically trained and experienced. Itinerary Can be Customize as your Requirement. If this above itinerary is not suffice or have any questions, you can ask one of our expert team member for help.