Kathmandu Shivapuri Nuwakot Biking Tour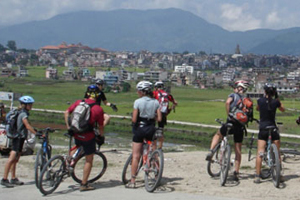 Kathmandu to Nuwakot Mountain biking in Nepal is a overnight Stay cycling Adventure Tours for Bike Riding Holidays Seekers in Nepal. Nepal mountain biking trail in Nepal an exceptionally inspiring play ground for riders with any level of experience and fitness. Trek Nepal Himalaya offers a large selection of biking in Nepal Beside of Kathmandu Nuwakot Biking Tour. Just Crossing Kathmandu Valley and Shivapuri National park, Extreeme Downhill Riding with Mountain Views and Local Villages to Old Capital of Nepal Nuwakot Hill Station. Visit Historical Temple and Sites in around with Trek Nepal Himalaya Expert Biking Guide and Finished tour in Kathmandu.



Trip Itinerary
DAY 1: After Breakfast we start ride from Thamel all the way to Budhanilkantha the sleeping Vishnu about 11km. Then we enter the Shivapuri National park about 8 km uphill good road then start the grabel jeep track where is no trafficking From there we can see the beauty full Kathmandu valley . We go to Gurgu Bhanjyang Where we can see the very clear Ganesh, Manasly and Langtang Himal views. This is the old traditional way between kerung Tibetan border, Gorkha and Nuwakot to connect the Kathmandu. And start the down hills about 15km to Thapagoan Satdobata. In there we make camp and overnight stay in there.

DAY 2: After breakfast we continue 3km down hills then reach in Chara bazar and to go to Dhikure bazar via normal gravel road and cross the suspension bridge in Tadi Khola and go to 6 km uphill to Nuwakot and drive back to kathmandu.

One day down hill kathmandu
1 Drive to Nagarkot and come down via Bhaktapur to kathmandu.
2 Drive to Nagarkot and down to Indrabati river and drive to kathmandu.
3 Drive to Shivapuri and go to Trishuli bazar drive to kathmandu.
For down hills tours we need support transport van back to Kathmandu.