Daman Biking Tour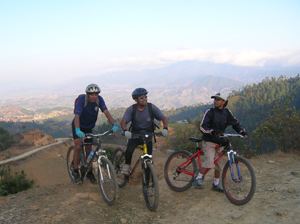 Mountain biking in Nepal is gaining popular among the adventure enthusiasts from around the world over the past few years. Its terrain & Himalayan peaks makes mountain biking trail in Nepal an exceptionally inspiring play ground for riders with any level of experience and fitness.

www.treknepalhimalaya.com offers a large selection of biking in Nepal and Tibet. There are few countries on Earth that can match its combination of spectacular scenery, exotic culture and hospitable people. Along with the world's deepest canyon and eight of the world's 14 highest mountains, Nepal has steamy jungles and terraced valleys laced with ancient villages, remote temples and wildlife preserves.





Trip Itinerary
DAY 1 : This tours is starting from kathmandu to Pharping via Bungmati in Bungmati you can see the Newari typical settlement and to cross the Very old suspension Bridge over the Bagmati river in Chovar then follow the continue to Pharping and overnight stay in resort there.

DAY 2: After Breakfast we check again the bike condition. This day we go to grabel road normal way to Kulekhani via Tamang village. Where we can visit the real typical Nepalese lifestyle along the way largest hydro power and artificial lake in Nepal . We continue the hydro dam and up to daman it takes about 2 hours up hills from there and overnight stay Daman. If weather is clear we go to visit the view tower for sunset in evening.

DAY 3: After Breakfast, Again we check the bikes breaks and condition because this day we go quite long down hills to Naubishe. We follow the old Nepal's highway links to India. But now a day there not so much traffics with very good mountain views. In Naubishe we meat again cruddy road which is the our precious highway to India and other Nepal's destination to kathmandu. From here we take our transport to kathmandu.

***Note:- You need a mountain bike in a good working order with helmet (both available for hire in kathmandu. We have big stock of bikes with front suspension e.g. Trek Series Bikes with genuine parts
Group Size Min 2pax, plus Nepali guide-medically trained and experienced, drivers, Tibetan guide and extra .