Kailash Saga Dawa Festival Tour 2017
Saga Dawa it's a Great Buddhist Festival in West Tibet, On the south face of Holy Mt. Kailash, Thousand of Tibetan Buddhist Pilgrimages and Monks will celebrate this festival as a day of Shakyamuni Buddha Enlightenment on full moon. This astounding festival is also known as the Festival for Releasing Living things and during this festival, Tibetan people do not eat any meat and kill any living things from past 2 days in order to concentrate their efforts of worshipping. A legent says on the 15th day of fourth months of the Tibetan years Shakyamuni Buddha was born, became a Buddha and died.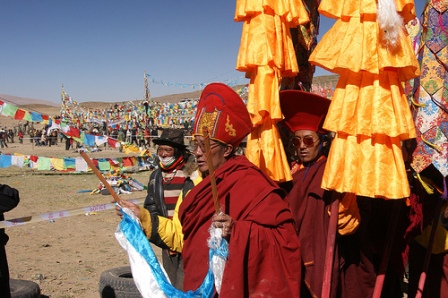 On this day each year, the people will dress in their splendid attire and sing and dance and have a pray in there gathering together. This exciting trip to Kailash for anyone who was dreamed of visiting the land of Tibetan People and standing within sight of mt.Kailash.

Buddhist, Hindus and Bonpo faithful consider Mt. Kailash and holy Lake Mansaravor as their sacred Land. The Kailash known as ten throne of Shiva, a powerful good in Hinduism, Buddhism considers it as kang Rimpoche, the precious snow jewels or Mountain. Devote of Jain religion considers the peak as Mount Asthapada. Rishabanatha, founder of Jain faith, believed that he gained spiritual liberation onthe summit of mt.Kailash. Bon po, pre Buddhist religion in Tibet believes that this is the Nine storey Swastika Mount Kailash Mountain that lead to the Haven. The pilgrims walk and prostate around the Mountain Kailash and asthapada. 52km. There is strong belief among Hindus and Buddhist that a single walk around the holy Mountain Kailash wash
Trip Itinerary
Day 1: Arrival in Kathmandu early in the morning
Day 2: Organization Tibet-visa - Sightseeing-Tour in KTM with guide.
Day 3: Transfer airport, flight to Nepalgunj in the late afternoon.
Day 4: Flight Nepalgunj – Simikot; Trek to Dharapuri small village on the corner of Karnali river, Camping.
Day 5: Trek Dharapori – Kermi, Visit the Kermi villae, a typical village sattled by Buddhist religion and visit around. Camp..
Day 6: Trekking Kermi – Yalbang, Is a biggest monastery in Humla karnali region, Visit monastery and Camp..
Day 7: Trekking Trek Yalbang – Tumkot Khola/village.
Day 8: Trekking Tumkot Khola/village – Yari below Nara La Pass, Yari is the last village before crossig to Tibet.
Day 9: Trekking crossing Nara La Hilsa border Camp/Lodge Hilsa is seasonal border to Tibet stand along the Karnali River.
Day 10: Cross Tibet border drive from to Manasarovar-Lake via Purang. Camp
Day 11: Explore day at Manasarovar, Visit Chiu Gompa, hiking to Gossul Gompa
Day 12: Kora Mt. Kailash, day 1 Darboche – Chuku Gompa – Drirapuk.
Day 13: Kora, day 2 (Drirapuk – Dölma La – camp 1 ½ hours before Zutrulpuk).
Day 14: Kora day 3 Zutrulpuk (visit Gompa) – Darchen and Camping in Darboche for Saga dawa Festival.
Day 15: Saga Dawa Festival in Darboche Visit then Drive to Hor Que North Mansarovar Lake Explore Lake
Day 16: Drive to Saga. Guest House..
Day 17: Drive to Lhastse. Hotel.
Day 18: Drive to Lhasa via Sigatse City. Hotel.
Day 19:Explore around Lhasa city, Visit Potala Palace, Jhokang Temple and Veg Market. Hotel
Day 20: Fly back to Kathmandu. Hotel.
Day 21: Transfer to Airport and onward flight/destination.