Druk Path Trekking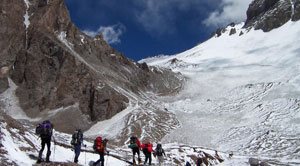 Druk path trek is a short trek, relatively easy from Paro to Thimphu or the other way round Thimpu to Paro. In clear weather, views of the Himalayas are breathtaking. The Druk Path trek goes as high as 13,000 ft past fresh water lakes abundant with fish (trout). Flowering rhododendron and high altitude wild flowers make this a colourful trail in the spring. Druk path trek is exclusively designed for those who wish to explore the most of Bhutan on foot within the short span of time. Exploration begins with a hike to Taktsang monastery. This helps you in getting acclimatized for trekking to Drugyal dzong, Shana Shana, Soi Thangthangkha, Jangothang, Dumzo Dhumzo, Thombu Shong, Shana Zam and then back to Drugyal dzong. Breathtaking views of towering rugged peaks like Chomolhari (7320 m), Jichu Drake (6900m) and Tshrim Khang, ruined forts, pristine villages, rivers, lakes, lush forests of oak, pine, rhododendron and spruce and abundant wildlife provide the trip with constantly changing sceneries and experiences along with a special connection with nature. This 11 day trek gives you exhilarating and rewarding way to experience some of the most captivating and wondrous areas of Bhutan.
Trip Itinerary
Day 01: Arrival in Kathmandu airport and transfer to hotel

Day 02: Transfer to airport for Bhutan flight Arrive Paro by Druk Air.

Day 03: Hike to Taktsang monastery.

Day 04: Drive from Drugyel Dzong to Shana.

Day 05:Trek from Shana to Soi Thangthangkha.

Day 06: Trek from Soi to Jangothang.

Day 07: A rest day at Jangothang.

Day 08: Trek from Jangothang to Dumzo.

Day 09: Trek from Dhumzo to Thombu Shong.

Day 10: Trek from Thombu Shong to Shana Zam.

Day 11: Trek from Shana Zam to Drugyel Dzong and drive to Paro.

Day 12: Transfer to airport for your flight to Kathmandu or other onward destination.

Note: Itinerary Can be Customize as your Requirement. If this above itinerary is not suffice or have any questions, you can ask one of our expert team member for help.