Yoga trek in Nepal
Yoga trekking is combined holidays in Nepal for those who seeking some soft hiking around the himalayas, evening & morning some yoga courses, meditation & spiritual retreat lesson on the trekking spot by local expert yoga - meditation specialist or by Buddhist monks in monastery. The Yoga and Trekking Program combines two of Nepal's kinds of traditions. Introducing Yoga into the Trekking experience allows for a richer appreciation of the physical and mental landscape as the body and mind are opened through daily Meditation, Yoga, Stretching, Massage, and Trekking.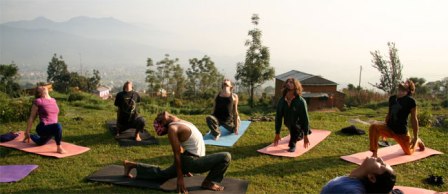 The combination of these elements creates a more fulfilling physical exercise while strengthening and opening the mind for greater relaxation and awareness all within the beautiful natural environment provided by the Himalayas. The Nepal yoga trekking program is targeted for all peoples and ages and is a unique opportunity for those interested in the strengthening of both the body and mind.

Why yoga trekking in Nepal ?

Half a million of people from all over the world come to Nepal to see the dramatic mountains. Through the yogic way of stretching the muscles and relaxing the body / mind bring more pleasure of trekking. For that reason Nepal Footprint Holiday Treks have been introducing yoga trek to all trek lovers to make their trekking more Peace, Pleasing and unforgettable. Trekking in this way is less strenuous on the body as yoga and stretching exercises make the body supple, Massage will be add in the yoga trek for tired and weary muscles.

What Expect in This yoga trek in Nepal ?

Don't expect so much, This yoga trek is combined activities holidays in Nepal for you. It is not only Yoga and recreation retread course but also active trekking holidays. Trekking by professional guides with full of support, professional yoga meditation teacher for yoga, full of vegetarian meals during yoga trek, soft walking during the days and some culture of Nepal.

Yoga trek in Kathmandu valley by Nepal yoga professional teacher

Kathmandu valley yoga trek is a short course of yoga-meditation & retread activities by professional yoga teacher with mini kathmandu valley rim trekking. We start from kathmandu drive to Kakani hill north from kathmandu, a hidden mountain sunrise view point, where less touristic for our yoga course in Nepal. We Nepal Footprint Holiday Treks managed all necessary permit, food, lodge and needed things for yoga to you. Only private clothing and things you have to manage self for your short yoga trek in kathmandu valley. Every day few hour yoga and meditation course you will feel more light comfortable and sportily.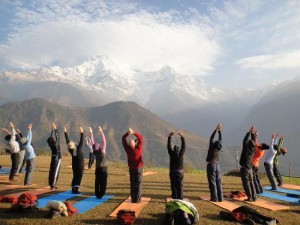 Trekking into Shivapuri National park with full of wildlife and Nature, Yoga with himlayan views and vegan foods during kathmandu valley yoga trek will be fantastic for your holidays in Nepal.

Day 1 arrival kathmandu hotel transfer (B/B plan hotel)
Day 2 Full day sightseeing in Kathmandu Valley including Buddhist Monasteries, Hindus Temples and Historical Places. (B/B plan hotel)
Day 3 Morning Leisure Time - After lunch Drive to Kakani hill station overnight local lodge - Evening yoga by professional yoga teacher. Vegeration food. (Local guest house with Dinner)
Day 4 Early morning, Himalaya sunrise yoga then breakfast, Trek to Shivapuri Village resort, late lunch, leisure with Nature & wildlife's, Evening Yoga by teacher and Wild resort accommodation. (Breakfast, Lunch & Dinner)
Day 5 Morning Himalaya yoga in Silent nature place, Breakfast then walk to Tokha village drive to kathmandu. (Breakfast, Lunch Hotel in Kathmandu)
Day 6 Free and Drive to onward destination.

Itinerary optional

Day 1 arrival kathmandu hotel transfer (B/B plan hotel)
Day 2 Full day sightseeing in Kathmandu Valley including Buddhist Monasteries, Hindus Temples and Historical Places. (B/B plan hotel)
Day 3 Drive to Budhanilkantha north kathmandu, Visit Sleeping Vishnu temple - A great Sleeping Bisnhu stone statue in Nepal, Walk to Nagi Gompa another great female monks (Nons) Monasteries and retread center for Buddhism. Lunch in Pocket. Overnight in monastery, Evening yoga retread class in nature by professional Nepal yoga teacher. (Lunch, Dinner accommodation)
Day 4 Morning yoga course, breakfast, trekking to mulkharka village . We walk ridge of shivapuri National park , great view of kathmandu valley, green forest, local villages and some mountain view. Lunch in Mulkharka local guest house, village walk, evening yoga class by teacher dinner lodge.
Day 5 Morning yoga class, Trek to Chisapani via shivapuri national park and village, great view of green forest, kathmandu valley, mountain views and more lunch in chisapani, visit small gompa and cheese factory , yoga course lodge in chisapani. Chisapani is small hill station where we can see himalayan sunrise/sunset view with great himalayan range and beautiful nepal landscape view.
Day 6 After yoga & breakfast, trekking to jhule village through shivapuri national park ridge with full fo himalayan views and valley view of kathmandu, helambu, melamchi, lunch in jhule mountain resort. Free time in resort, its a good small Eco Resort with farm house. Evening himalaya yoga dinner.
Day 7 After yoga Himalayan view & breakfast, trek to Nagarkot hill station - A famous touristic hill station nearby Kathmandu city, have lunch trek down to talikot then drive to Kathmandu, Hotel in ktm.
Day 8 Free day in kathmandu self exploration kathmandu valley - depart to onward destination.


Rolwaing valley trek, bigu gompa - yoga trekking nepal with yoga professional

Bigu gompa - rowaling valley trek with yoga course is 9 days unique product of culture, recreation and various wonder of various lifestyle and religious holidays in Nepal .

The rolwaling valley is a less touristic area lies north east of kathmandu lower Gaurishankhar himalayan range. It's a trekkign part of great himalayan trail Rolwalling Tashi Lapcha pass trek route. The lower rolwaling valley and bigu gompa trekking is start from Charikot or Barabishe, make small circuit of valley with Bigu village and thingsangla pass. A weeks trek is not only famous for trekking but also good holidays for yoga and meditation retreat course for yoga professional or beginner. We, Nepal Footprint Holiay Treks provide professional yoga teaher or by great buddhist monks you can do yoga every mornig and evening. Stopping few days in Bie Gompa with female monks and make a small course with Bigu Monastery nuns with full of support by us.

Bigu Gompa trek with Yoga by professional Nepal yoga teacher is unique product for cultural study and exploring natural beauties. It has various wonder of biodiversities and culture. Varieties of culture, unexplored inner site of local lifestyle and religious sites, daily activities are the main attraction of this area. So far it is completely stand as non touristy area.

Day 1 Arrival Kathmandu Hotel
Day 2 Kathmandu Exploration by Guide full day hoel.
Day 3 Drive to Sorung Khola by Bus/Private full day drive stay in local lodge - Nepalese food provided/camp
Day 4 Trek to Bigu Gompa via bigu village & thami village stay in gompa or community Lodge/camp
Day 5 Explore around Bigu Gompa medetation & yoga by Professional or by Buddhist monks/camp
Day 6 In Gompa female monks day yoga & meditation lodge/camp
Day 7 Trekking to Dolangsa over Thingsangla Pass local lodge/Camp
Day 8 Trekking to Barabishe drive to Kathmandu Hotel.
Day 9 Free in Kathmandu depart onward destination.

Note: Itinerary Can be cuxtomize as per request. Please for further information abut yoga trek in Nepal contact us : Nepal Footprint Holiday